CSL
Maradona named Chinese Super League ambassador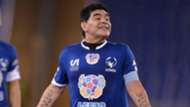 Diego Maradona has confirmed that he is to become an ambassador for the Chinese Super League.
The 1986 World Cup winner says he will be "eternally grateful" at being given the opportunity to work with the ambitious Asian project.
CSL clubs have helped to raise the profile of the division with a number of big-money additions over recent months.
The story of how Madrid tried to sign Maradona
The likes of Paulinho, Ezequiel Lavezzi, Ramires and Hulk were already plying their trade in the Far East, and they have been joined by Carlos Tevez, Oscar, Alexandre Pato and Axel Witsel.
There are also a number of high-profile coaches in the Chinese top tier, such as Luiz Felipe Scolari, Fabio Cannavaro and Manuel Pellegrini.
Maradona has now joined the ranks, with the former Argentine, Barcelona and Napoli star adding his weight as a global sporting icon to the CSL brand.
Maradona has already announced that he is to work with FIFA in an effort to achieve a clean and transparent organisation to govern international football.
Maradona thrilled to land FIFA role
He will now be combining those duties with those in the Chinese Super League, with the start of the 2017 season and closure of the winter transfer window allowing full focus to be directed towards events on the field.
Speculation regarding future transfers refuses to go away, however, with the likes of Wayne Rooney and Diego Costa being heavily linked with lucrative moves to Asia.