World Cup
Low to stay as Germany manager despite World Cup humiliation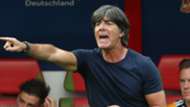 Joachim Low is set to stay on as Germany coach, despite their World Cup humiliation in Russia.
The reigning world champions were eliminated at the group stage, finishing bottom of a group comprising Mexico, Sweden and South Korea.
Despite the win over their European rivals, losses to Mexico and South Korea have prompted much soul searching in Germany and led to intense speculation over the future of Low.
However, the German Football Association (DFB) have confirmed that he will stay at the helm, with many reports suggesting that he signed a new contract before the tournament began.
"I am very grateful for the confidence that the DFB has in me, and despite the justified criticism of our elimination, I also feel support and encouragement," Low said in a statement.
"It was important for me, after a few days, in which I have thought a lot, to personally get in touch with the DFB leadership. My disappointment is still huge. But now I want to design the rebuilding with full commitment.
"I will analyse together with my team, hold talks and draw the right conclusions at the start of the new season. It all takes time, but everything will happen in time for the start of the new international season in September."
DFB president Reinhard Grindel has insisted that Low is the best man for the job, adding: "We had a very open and trusting exchange in which we raised many points. We are all firmly convinced that with Jogi Low we have a national coach who will analyse very carefully, take the right steps and lead our team back on the road to success.
"It would be premature, however, to demand a comprehensive analysis just days after such a tournament."
Sweden, the only team Germany managed to beat in Russia, face Switzerland in a last 16 encounter on Tuesday, and will play either England or Colombia in the quarter-finals if they are victorious.