Landon Donovan
Landon Donovan makes Liga MX debut for Leon vs. Puebla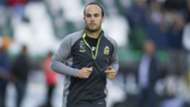 Judged on a limited sample size, Landon Donovan made a positive debut for Leon in Sautrday's match against Puebla, coming on in the 83rd minute and looking comfortable in his first match in two years, which his side won 2-1. 
Donovan came out of retirement to join Leon in the offseason and hadn't played in a professional match since Nov. 6, 2016, when he went 45 minutes for the LA Galaxy in a playoff game that capped his first comeback.  This return was announced Jan. 13 , but the all-time leading scorer for the United States men's national team has been working to get back to match fitness.
Leon started the season well  but had been outscored 9-1 in its previous two matches, falling 4-0 to Necaxa at home in Jornada 4 and losing to Monterrey 5-1 last weekend. That put pressure on Donovan not only to debut against Puebla, as had been speculated, but to help an attack that has been unable to achieve the level it showed last tournament.
Ultimately, it was a relaxed first showing for Donovan. The 35-year-old came into the match with Leon already up 2-1 and controlling the possession. Mauro Boselli started the night right for La Fiera with a third-minute goal, with Andres Andrade doubling the lead in the 21st minute.
Donovan entered for "El Rifle" Andrade in the 83rd minute to applause from the crowd at the Camp Nou and settled into his familiar position just behind the forward. His performance Saturday was too little to draw any conclusions about how the return will be judged in the long-run, but the American was involved in a number of plays.
In the 88th minute, he lost the ball while trying to create a chance but chased down Puebla's Anderson Santamaria and returned the favor. Just before the clock read 90 minutes, he combined with Mauro Boselli in the box, but found the ball back at his feet after a deflection. He got stuck in traffic and a defender played the ball off him for a goal kick.
"From the first day that I was here in Leon the fans have been great. Now I have to give them something on the field, and I'm going to do it," Donovan told reporters after the match
In stoppage time, a chance for a storybook debut went wanting. With Puebla's defense caught up field looking for the equalizer, Donovan made a secondary run into the 18-yard area and was all alone near the penalty spot. Fellow substitute Hernan Burbano's cross was far too heavy, though, and the American had to chase the ball down and recycle the play.
"It's tougher to play on the field on Saturday night than to train, that's why I was lacking a little rhythm, but it was important that I could debut in a win," he said. 
Donovan's fellow offseason acquisitions, former MLS forward Giles Barnes and Malaga loanee Emanuel Cecchini, also were yet to make their Leon debuts. Barnes was on the bench for Saturday's match but didn't enter.
Donovan has now resumed a career that saw him become one of the most decorated players in U.S. national team history, earning 157 caps and a record-tying 57 goals. A six-time MLS Cup champion, Donovan became the league's all-time leader with 145 goals and 136 assists — prompting MLS to name its MVP award in his honor shortly after his initial retirement in December 2014.