WTF
Jackpot! Argentine cup tie decided by lottery numbers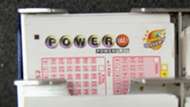 From replays to penalty shoot-outs, golden or even silver goals, football has come up with many ways of deciding a winner after a hard-fought cup tie. 
But one Argentine federation may have revolutionised the game forever, after deciding the victor of one long-delayed quarter-final through a lottery draw!
Maracana in desperate disrepair
The story begins all the way back in December, when San Jorge and Sauce duelled in the last-eight of the Torneo Play Off, a regional competition in Entre Rios province. 
After losing the first leg 2-1, San Jorge led 1-0 in the return clash when an attack on match referee Jose Ventos by a Sauce fan caused the game to be abandoned. 
That result was allowed to stand, leaving the tie poised at 2-2 - but the situation quickly descended into chaos when offers to play out the 30 minutes of extra time and later a third, deciding match were rejected by the second-leg winners. 
And on Wednesday, the Departamental League of Colon, Entre Rios, finally caved and left the outcome of the tie hanging on Saturday's evening lotto numbers. 
An even first number would see San Jorge make the semis, while an odd digit would leave Sauce with cause to celebrate. 
But fortune eventually smiled on San Jorge: with the drawing of 1706, the side prevailed in the bizarre tie-breaker and will now take on San Jose in a clash that should have taken place at the end of 2016.