Chelsea
Ironman Bakayoko helping to banish Chelsea's Matic blues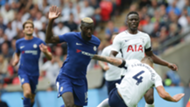 Tiemoue Bakayoko's debut was anything but easy. The 23-year-old Frenchman stepped out in front of 76,000 fans at Wembley Stadium in his bright new Chelsea shirt to take on one of the most feared midfields in England.
Moving from Ligue 1 to the Premier League, he somehow managed to cope with a 90-minute onslaught after bravely volunteering himself to debut in Chelsea's derby match away at Tottenham.
Chelsea had been described by some as being in crisis and went into the match as underdogs but it was impressive to see that a half-fit Bakayoko was willing to put himself in a situation that could have so easily made him look bad.
He could have aggravated the knee injury for which he underwent surgery as recently as May, or been embarrassed by last season's best midfield partnership of Victor Wanyama and Mousa Dembele, but Bakayoko put in a disciplined display to help his new team come away with all three points.
Bakayoko's display wasn't vintage, by any means, but it sets an impressive marker down about his character and attitude. It shows Chelsea have a player that isn't a £40 million mercenary, but rather is willing to fight for the shirt.
The former Monaco man had no shots or key passes in a disciplined display. His eyes were mainly set looking back towards his own goal as he made more interceptions and got himself involved in more duels than any other Chelsea player.
His passing accuracy was a mere 62.5 per cent and he lost the ball 12 times, but it would be churlish to criticise when merely making it onto the pitch was an achievement itself for the debutant. Ever the perfectionist, however, Bakayoko expected even more from himself.
"The Premier League is so different from Ligue 1," he told SFR Sport. "I got to see it from the first minutes. So I needed to be ready. In general, I'm a little bit mixed about my game. I had some good moments, but some bad moments too.
"I need to get the rhythm. It was my first match since the injury so, it will come, but I'm happy overall."
Bakayoko's display brought hope as negativity plagues the narrative around Chelsea. Talk of struggles in bringing in players persists, while Antonio Conte has been linked with leaving the club once again, a claim that was denied to Goal.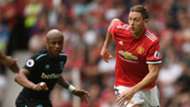 Chelsea have also had to suffer seeing Nemanja Matic's fantastic start at Manchester United. The Serbia international earned the man-of-the-match award in his home debut against West Ham and has made an instant impact after being reunited with Jose Mourinho as his new side started the season with back-to-back 4-0 wins.
Matic is no doubt a boost to Mourinho but Chelsea's £40m sale makes more sense now Bakayoko has made his debut. Conte, Gary Cahill and Cesar Azpilicueta all expressed worry at the sale of Matic but one star had to be offloaded to bring in Chelsea's new man. 
It was a case of selling Cesc Fabregas or Matic, with the prospect of keeping four top-class midfielders happy looking an impossible task. 
Conte has swapped Matic for his image of a perfect midfielder. Strong, quick and aggressive, Bakayoko has all the attributes to handle the pressure of playing in the middle of the pitch in Chelsea's preferred 3-4-3 line-up.
At Juventus, Conte had the midfield engine of Paul Pogba and Arturo Vidal, now it is Bakayoko and N'Golo Kante. Chelsea's midfield has the true character of a Conte team and Bakayoko has shown in 90 minutes that he is ready to fight with Matic's United for the title.