Premier League
Henry: 'Not real' Kante should win Player of the Year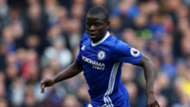 Thierry Henry is backing Chelsea midfielder N'Golo Kante to win this year's PFA Player of the Year award after impressing in his debut season for the Blues.
Super Mane sparks Liverpool to life
The France international, who helped Leicester to a stunning title campaign last season, swapped the King Power Stadium for Stamford Bridge in the summer.
He has gone on to become a huge success for Antonio Conte's side and Henry has joked that his form has been so good he had to check that he was actually real.
"I was at the Chelsea training ground last week to see Eden Hazard and noticed Kante wandering back to the changing rooms," he told The Sun.
"So I went over to him and stood in front of him.  And I poked him in the chest.
"I had to, just to check if he was real! 'You are real, you are!' I said, and he laughed."
The Blues go into Sunday's clash with Burnley nine points clear at the top and Henry has explained exactly why Kante deserves personal recognition this season.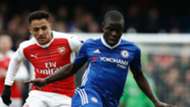 "I see no reason why he shouldn't be PFA Player of the Year at the end of the season," he added.
"It's around now that the voting slips start to drop on the doormats of pros and there are loads of worthy candidates this time.
"Zlatan Ibrahimovic is banging them in for fun — at 35. Alexis Sanchez is chipping in with goals and assists, Romelu Lukaku went into the weekend top of the scoring charts with 16.
"Then there's Liverpool's Sadio Mane, Harry Kane and Dele Alli at Spurs and Kevin de Bruyne at City, who have had great seasons.
"Usually your Kante-type player goes relatively unnoticed. They are only missed when they're not there. But Kante is so special, you do notice him.
"He's so good he must say to himself: 'N'Golo, you go and I'll cover!' It's an art to sense danger, to tackle, to intercept.
Rio reveals Man Utd's teacher's pet
"Kante had two blinding games in a week against Liverpool and Arsenal. If he starts scoring and improving his final ball, phew!
"Then you would have your two holding midfielders and your No.10 rolled into one.
"People pay to see Hazard score crazy goals but it's not just about that, it's about what N'Golo does too. Why not hand him the trophy?"