Premier League
Hazard: It's no good when opponents don't kick me!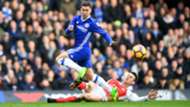 Eden Hazard has revealed that he prefers being kicked and fouled by opposition players as it makes him feel like he is in the game.
The Chelsea winger is at the top of the charts in terms of fouls won for his team in the Premier League, with 67 - one ahead of Crystal Palace man Wilfried Zaha.
Hazard: I'm better than in 2015
Hazard was once again facing some rough treatment in Saturday's win over Arsenal, with the likes of Francis Coquelin and Skodran Mustafi doing everything possible to stop the Belgium star.
Coquelin was brushed aside as Hazard raced through to score his side's second with a super solo effort, while Germany international Mustafi was booked for a strong challenge on the 26-year-old.
The former
Lille
winger was even seen limping after full-time but says he is happy to continue getting fouled as it tells him he's heavily involved in the game.
He said: "When I get a lot of kicks, I feel really in the game. And when people don't touch me, it tells me I'm not doing well. No good.
"I'm not saying I like to be kicked, but it's good for me to feel I am in the game. Definitely. A motivation."
Chelsea are currently nine points clear of second-placed Tottenham at the top of the Premier League table and face Burnley away in their next fixture.