Liverpool
Gomez desperate to establish himself for England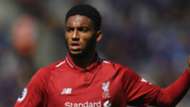 Liverpool defender Joe Gomez is desperate to re-establish himself in the England team after missing out on their run to the World Cup semi-finals.
The 20-year-old has won three caps for the Three Lions, playing 65 minutes in a 0-0 draw with Germany before playing the entirety of the encounter against Brazil in another goalless stalemate.
However, he only managed 10 minutes against the Netherlands in his second senior start, as he sustained an ankle injury that led to him being replaced Harry Maguire and eventually ended his hopes of travelling to Russia.
Leicester City defender Maguire, of course, went onto become a key member of Gareth Southgate's side at the tournament in Russia, even scoring a key goal in the quarter-final win over Sweden.
Gomez says he struggled to watch England during their run to the last four, where they lost to Croatia, but he has now set his sights on playing regularly for his country, after being included in the squad to face Spain in the UEFA Nations League this weekend.
"I had a long period when I was beating myself up, I was replaying it over it in my mind," he told The Independent.
"I kept thinking I should have done something to stop things going the way they did. It was tough, I won't lie, seeing the team do so well. As a fan I was buzzing, at the same time, it was tough that I missed out. But it's done now, I'm over it. Hindsight is a beautiful thing."
Gomez has made himself a key part of Jurgen Klopp's defence at Liverpool, playing all four games as the Reds have taken maximum points, conceding just once in the process.
And the youngster is delighted to be playing so regularly at Anfield.
"It was massive for me," Gomez added.
"And on a personal note, just playing centre-half in the Premier League. Obviously I have said in the past I do hope to move inside one day. I'm happy to play wherever for the team, but to get the opportunity to do it is a personal goal of mine.
"To get the opportunity to play the first game is something I was hoping for."