Ligue 1
From Ligue 1 to superstardom: Patrice Evra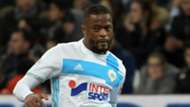 Patrice Evra never wanted to be a defender. Perhaps surprisingly for a player described as the best left back in the world by none other than Sir Alex Ferguson, Evra started out with big ambitions of scoring goals, not stopping them.
Born in Dakar, Senegal, Evra's father was a diplomat and moved his growing brood (Evra Sr fathered 25 children) to Belgium when Evra was one-years-old. 
Within two years the family had settled in the Parisian suburb of Les Ulis, birthplace of one Thierry Henry. At local club CO Les Ulis, like Henry, Evra played up front but trials at Rennes and Lens proved fruitless. 
He would later try out for Toulouse and then PSG, who signed him as a winger but he was later released. It wasn't until he was 17 that he got his first break. Spotted at a local tournament by an Italian scout, he was offered youth team terms by Torino.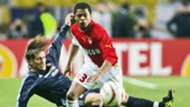 At the same time, Serie C1's Marsala offered him his dream – to play professional football. Standing in front of the mirror in his team tracksuit, ready for his first practice, Evra had arrived.
"It was like paradise," he said. "To this day, it is the best feeling I've had in football. I had finally become a professional footballer."
The feeling wouldn't last, however, and after 27 matches he joined Serie B's Monza but the top level still evaded him, while a lack of first-team action saw him leave Italy after two seasons.
Nice, then in Ligue 2, proved his saviour. In his initial few appearances for the Cote d'Azur club, he played a mix of centre forward and left winger. His performances justified promotion to the first team in 2001-02, but an injury crisis at left-back would set Evra on a path to greatness.
Starting left-back Jose Cobos' reserve Jean-Charles Cirillii picked up a knock in the very first game of the season against Laval. Evra slid into the defensive role as Nice got off to a winning start.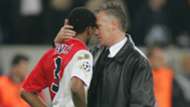 Evra assumed he'd return to his regular position for the next game, but manager Sandro Salvioni had other ideas, much to the youngster's consternation. Evra would argue his case but was offered the choice of playing left-back or not playing at all. 
The club would earn promotion to Ligue 1 for the first time in 14 years and Evra was named in the Ligue 2 Team of the Year. 
But still Evra didn't see himself as full-back and, when his fine form earned him a move to Didier Deschamps's AS Monaco the following season, Evra was ready to return to an attacking rule. 
But Deschamps quickly talked him out of it, demanding Evra slot into a back four featuring Mexico captain Rafael Marquez, Sebastien Squillaci and Franck Jurietti. They recorded 16 clean sheets on the way to second place in Ligue 1, finishing one point behind Lyon, as they claimed a Coupe de la Ligue triumph.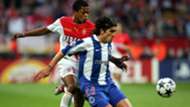 Evra's attacking tendencies remained in his new role and the sight of the 22-year-old flying forward on the overlap had started to attract glances from all over Europe. 
Inspired by Deschamps, who Evra credits for his development as a defender, the left-back and his Monaco cohorts led Ligue 1 from September to March. They would eventually be pipped to the title by Lyon once again, and ultimately finish third behind PSG.
But the newly-installed vice-captain and his side were getting their first taste of Champions League football and enjoying every second.
Victories over PSV Eindhoven and AEK Athens were followed by a 1-0 loss to Deportivo, but Evra's side would have their revenge in an 8-3 romp at home. An away-goal win over Real Madrid in the quarter-final set up a 5-3 aggregate downing of Chelsea in the semi-final.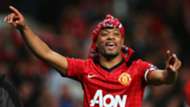 The final in Arena AufSchalke saw bitter disappointment, however, as Monaco succumbed to Jose Mourinho's Porto.
Despite rumours linking the France U21 with Juventus, Inter and Manchester United, Evra pledged his future to Monaco as the team reached semis in both Coupe de la Ligue and Coupe de France, and the knockout stage of the UCL. 
But with the side languishing in 15th, Monaco couldn't resist a January transfer window offer from a determined Man Utd.
The deal to take Evra to Manchester was done and his greatness would be realised – even if it didn't involve banging in 20 goals a season.