Malaysia
FAM reverts team name back to Harimau Malaya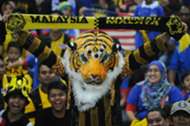 ---
 BY       OOI KIN FAI      Follow on Twitter
---
In an annoucement made by Dato' Hamidin Mohd Amin on Monday evening, Football Association of Malaysia (FAM) has made the decision to drop the "Harimau Malaysia" name and reverted back to using "Harimau Malaya" for its national team.
Initially, the intention to make the prior change from "Malaya" to "Malaysia" was to be inclusive of those from Sabah and Sarawak, as there have been claims that they feel left out with the initial moniker. 
The reversion of the name has been approved by the new FAM president, Tunku Ismail Sultan Ibrahim which ironically came at the behest of fans wanting the old name back. The tie-in that the fans feel with the original name was symbolic of the good times that the national team had gone through in the past. 
This change also meant the death of the "Harimau Malaysia" website, that has since been taken offline. Moving forward, all national team related matters will only be posted on the FAM website.
While ultimately, a name cannot dictate proceedings on the pitch nor provide tactical or individual improvement of the players - this move will no doubt be well received by the fans. Perhaps, the name change will spark some life back in to the national team ahead of the crucial Asian Cup qualifiers in June.