Chelsea
FA scheduling helps United ahead of Chelsea match, says Conte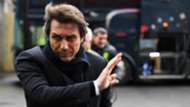 Antonio Conte believes Manchester United have been "respected" by the FA, with the governing body scheduling a Monday FA Cup game after the Red Devils' away trip to FC Rostov on Thursday evening. 
United boss Jose Mourinho has bemoaned the fixture pile up with his club having to slot in Europa League ties alongside the EFL Cup final and Premier League games ahead of the FA Cup quarter-final.
But despite the busy schedule, the Chelsea boss doesn't think United will have any problems recovering from their clash thanks to the Football Association's scheduling of the game and said his opponents have the squads to cope with the rigours of the game.
"We could play also Sunday, or Saturday, if the federation [FA] decided it. But we are playing on Monday," Conte said. "I think that the federation showed great respect for Manchester United to play the last day available the FA Cup.
"There are four days to recover, and this game is an important game for us, for them. I think their formation will be very good. Also because, I repeat, United and City have the best squads in this league."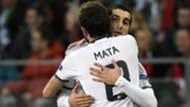 While Chelsea is running well in the league and the cup, Conte has avoided talk of a double ahead of the clash at Stamford Bridge, saying his players will be better off focusing on the task ahead rather than getting carried away at the prospect of a memorable season.
"For me, it's not important to think about winning the double," Conte said. "It's important for me, and above all my players, to play game by game and see at the end what we reached at the end of the season. It's important, this.
"Now, this game is the most important game because either you go through or you stop your run in the FA Cup. For this, it's the most important game for us at this moment. Then, after Monday, our most important game will be against Stoke in the league.
"We have to build our way, to try and arrive at the end of the season, to try and celebrate something and to win something. But, until now, I repeat: The way is very long."