FIFA 19
F2Tekkz continues to dominate FUT Champions Weekend League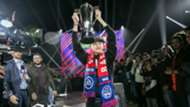 This was only the second Weekend League of FIFA 19's life cycle yet we are only just over a week away from the first licensed qualifier for the eWorld Cup, the Paris Continental Cup.
Pro players have been busy trying to get to grips with the game and figure out the best strategies while becoming FUT verified and earn bragging rights with a 30-0 finish.
That's exactly what reigning world champion Mosaad 'Msdossary' Aldossary was able to do, while runner-up Stefano Pinna had to settle for a record of 29-1.
One player who is absolutely flying in FIFA 19 is F2 Freestylers' Donovan 'Tekkz' Hunt. The teenager exploded onto the pro scene last year, winning the FUT Champions Cup in Barcelona at just 16 years of age before ending the year on a low, failing to qualify for the eWorld Cup.
However, it looks like he might be back on top having finish both Weekend Leagues so far with an immaculate record of 30-0. Last week, F2Tekkz was the number one player on Xbox and he's found another high finish this week, finishing in second.
Hitting similar form on PlayStation is Philipp 'Eisvogel' Schermer. The German was uncovered by the very fortunate Team Envy in the Gfinity Elite Series Draft during FIFA 18. Now signed for Schalke, Eivogel finished first place last week and found another 30-0 this week, this time taking third place on the leaderboards.
His Schalke teammate Tim Latka, meanwhile, finished in the top 10 on Xbox One alongside some big names including Spencer 'Gorilla' Ealing, Ajax's Joey 'Joey' Calabro and FUTWIZ's Nathan 'Zelonius' Horton, who finished in third place.
Hashtag United had a mixed weekend with new signee Henry 'Honey Badger' Blackmore finding another 30-0 finish while both Ryan Pessoa and Harry Hesketh just missed out with 29-1 records.
Meanwhile, Manchester City struggled with both Kai 'Deto' Wollin and Marcus 'Marcuzo' Jorgensen finishing 29-1 as did Christopher 'Didychrislito' Holly from partner club, New York City FC.
It's one thing finishing 30-0 in the Weekend League but playing on stage in a live event is a completely different ball game. It'll be fascinating to see how some players transition their online form into live tournaments where the pressure is really on.