Napoli
De Guzman punch claims 'entirely false', say Napoli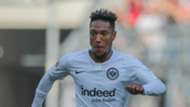 Napoli have branded Jonathan de Guzman's claim that he was punched by sporting director Cristiano Giuntoli "entirely false" and hinted at legal action against the midfielder.
De Guzman said in an interview in Dutch newspaper De Volkskrant that a fight broke out between the pair when he was hit in the face by Giuntoli in an argument about his future in 2015.
The Netherlands international, who joined the club from Villarreal in 2014, said problems started during preparation for the 2015-16 campaign. De Guzman was told to train despite suffering from stomach pains, and the Italian side decided to sell him. After a series of arguments with Giuntoli, things came to a head on September 1 - after the transfer window closed.
De Guzman alleges that Giuntoli called him a "piece of sh*t" and said he had promised to leave the club before punching him in the face.
"We started fighting, chairs fell over," De Guzman said. 
"My team mate [Juan Camilo] Zuniga joined us, pulled us apart and said to me: 'Take your things and go home'."
But Napoli have insisted the 31-year-old, now playing with Eintracht Frankfurt, was not telling the truth and will let their lawyers handle it.
"SSC Napoli would like to stress that his version of the events in question, which took place over three years ago, is entirely false," a statement on their website read.
"The club reserves the right to protect its image and that of its employees via the appropriate legal channels."
A few months after the alleged incident, De Guzman was loaned to Carpi for six months and spent the following season at Chievo before joining Eintracht Frankfurt on a free transfer in July 2017.