Mexico
Mexico friendly at Denmark set for Copenhagen on June 9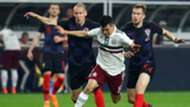 Mexico's final World Cup tune-up will take place in Copenhagen on June 9, the Federacion Mexicana de Futbol announced Friday.
The match against Denmark previously had been announced but the date and site were to be confirmed. There was some worry that Mexico would have to travel onto the Jutland Peninsula, the western portion of Denmark, to play the match.
That would have added more miles to Mexico's journey ahead of arriving in Russia for the World Cup. Instead, the match will be played in the capital's Brondby Stadium on June 9 at 1 p.m. Mexico City time, 8 p.m. Copenhagen time.
The friendly will be Mexico's last match before opening World Cup play against Germany in Moscow on June 17. 
Mexico players are set to begin reporting to national team camp on May 14, with Europe-based players joining later. They'll travel to Los Angeles for a friendly against Wales on May 28 at the Rose Bowl in nearby Pasadena. 
El Tri then returns to Mexico City for a June 2 send-off friendly against Scotland before beginning their travel toward Russia with the pit stop in Copenhagen.
From there, Mexico will settle in at the Novogorsk-Dynamo Training Base in northwestern Moscow. Normally the site for FC Dynamo Moscow's training, Mexico will stay and train there ahead of group matches against Germany, South Korea and Sweden.
Mexico manager Juan Carlos Osorio currently is in Argentina chatting with several coaches in the country and taking in a few matches. He was spotted at Thursday's Copa Libertadores match between Racing and La Universidad de Chile chatting with Racing and Inter legend Diego Milito.
He also previously visited Independiente. Osorio has been criticized for being outside the country as the Liguilla, the Liga MX playoffs, take place but has said previously that he has his squad list ready to go for this month's deadline.