MLS
Perrinelle re-signs with New York Red Bulls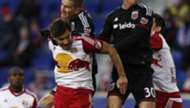 French central defender Damien Perrinelle has re-signed with the New York Red Bulls, the club announced Wednesday.
Perrinelle, 33, rejoins the MLS outfit after three seasons at Red Bull Arena. Prior to his move to the Red Bulls midway through the 2014 season, Perrinelle played for several clubs in the top three tiers in his native France.
Guzan to join Atlanta at midseason from Middlesbrough
"We are pleased to bring Damien back for 2017," Red Bulls head coach Jesse Marsch said in a club statement. "Damien has been an important part of our back line for the last two years, and we think he can continue to play a big role for us this season."
Perrinelle has made 40 league appearances for the Red Bulls, having scored two goals and an assist.