Premier League
Collymore: My head exploded after Newcastle winner!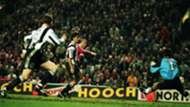 The scene: Anfield. The date: April 3, 1996. Two teams meet in what will go down as the greatest Premier League game of all time.
That game provided the arena for Liverpool and Newcastle's barnstorming attempt to keep pace with Manchester United in the title race.
Kevin Keegan's Newcastle, wavering. Liverpool, inconsistent. Both relentlessly entertaining. Both committed to attacking football. It was a thriller; a special night under the lights with goals coming right at the start and right until the very end.
There in the middle of it all, Stan Collymore. An assist right out of the traps for Robbie Fowler. A poacher's goal to get Liverpool back level. And right at the death… a pass from John Barnes and an iconic Anfield ending in front of the Kop.
"Wherever I go in the world it staggers me how many people come up and talk about that game," Collymore tells Goal. "I've just been putting on Instagram the mural around the corner and there are loads of comments: Collymore closing in!" Martin Tyler's commentary for Sky Sports that night remains one of the most recognisable soundbites in the competition's history. 
"People have asked me many times: "How do you feel?" and I say my head exploded. It just does. The noise was deafening. The banners all suddenly start to go up. Kevin Keegan draped over the advertising hoardings. So many iconic moments."
It might be hard to believe now given their relatively insecure Premier League status but a generation ago Newcastle were the top flight's great entertainers. Les Ferdinand, David Ginola and new signing Faustino Asprilla thrilled crowds at St James's Park and took the Magpies right to the brink of the title under ex-Liverpool hero Keegan.
"I remember being on the training ground at Melwood a couple of days before and it being impressed upon us by Roy Evans how important the game was to stay in the title race, that we could score against Newcastle because Kevin Keegan's philosophy was: 'they score three, we score four'," says Collymore.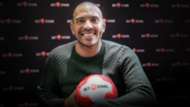 "And it was all set up to be a classic. Two very attacking teams, two teams that weren't great at defending.
"I don't remember being particularly nervous. I think it was just more excitement to try and get out there and narrow the distance between us and Manchester United.
"I think Newcastle struggled in some games quite early. We scored after a minute or so.
"I remember the assist for Robbie Fowler. I used to break down the left quite a lot and put a cross in for him. He scored after two or three minutes. And then they got back into the game and the first goal. Then it was Jason McAteer down the right, who was really good crosser of the ball.
"I just flung my leg out, hit it and thought if I could get an assist and a goal on the night and we can win the game, happy days.
"But even now I have to pinch myself when again I watch the game and how it ended. Andy Gray said this in his commentary: 'Stan Collymore's been chucked out onto the left wing, nobody can see him, John Barnes can!' I'm literally out of camera shot because Ian Rush came on the pitch, played up front with Robbie Fowler and I got stuck out onto the left wing.
"And I just remember Barnesy and Rushy dicking about on the edge of the box, it was like what are they doing? I was like pass it and John Barnes did. And I didn't think anything other than just get this shot on target.
"If you look at the goal again, it beats Pavel Srnicek at his near post. Anybody tells you that you're supposed to shoot across the goalkeeper. It left my boot and could quite easily have gone into the side-netting and we wouldn't be having this conversation and it would have been an entertaining 3-3 draw.
"But the noise from the Kop and to score a winning goal at the Kop End in such a big game was incredible. It really was incredible."
The context of the game gave an added depth to its infamy. Newcastle had been as many as 12 points clear at the top of the table in January but entered the Anfield showdown in horrific form.
Liverpool had an outside chance of reining in United but would have to make sure they kept the pressure on. This was a club accustomed to winning titles down throughout the decades but were at the outset of a league trophy drought now stretching to 28 years.
"If you compare it as a 90-minute football match to any other game that's been played at Premier League level, I honestly don't think you'll find one from minute one to the last kick of the game that had so much quality, so much attacking talent, so many very good goals and performances," says Collymore.
"That's why we're here now. It still endures 20 odd years later. A game between two teams that neither of them won the title."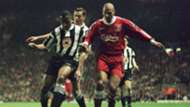 As it transpired Newcastle finished five points behind United with Keegan melting down a few weeks later on live TV, declaring he would "love it" if his side beat Sir Alex Ferguson's men to the title. Liverpool went on to lose the following weekend at Coventry and ended up third. Neither of the great entertainers a match for the consistency of United, experts at grinding it out.
"This is why neither team won the league even though both were equally talented to the Manchester United side at that point," says Collymore. "The difference was they had somebody in Sir Alex Ferguson that took the defensive side of the game particularly seriously."
Liverpool's culture was built on trophy wins from the 60s, 70s and 80s. Their younger generation of fans might only have a passing notice of what the club were like in their heyday. But even in 1996, when moments of success were fresh in the mind, this one game, worth only three points, was worthy of being savoured.
"In 1996 that Liverpool were still quite by some way ahead of Manchester United in terms of European titles and domestic titles. Liverpool as a sporting city wasn't prone to overstating things. But the day after the game they had in all of the tabloids celebration editions of the paper.
"It probably wasn't until a couple of days after that we realised how good the game was and players from both sides were talking about it. And you think: well if John Barnes has said that's as good as he's played in then you know it's a pretty good game."
Stan Collymore was speaking with online betting site BetStars. #Callit at BetStars