Transfers
Arthur: I met Barcelona, but no deal is agreed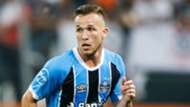 Gremio midfielder Arthur has denied that he has signed a contract with Barcelona.
The 21-year-old has been heavily linked with a move to the Camp Nou club, particularly after he was spotted posing in a Barca shirt last week. 
That kicked off speculation that a deal had already been completed between the teams, yet the 21-year-old midfielder, who was named as the outstanding player in the Copa Libertadores final, has denied that is the case.
"On the Barcelona issue, they really talked to me. We had a meeting, but I want to clarify that we have nothing agreed or defined," he told Esporte Interativo.
"It's a club that I admire a lot. It was only first contact for them to get to know me and my family, and for me to meet them, let's take it easy. There is nothing definite, but we did have a conversation.
"I'm a Gremio player. My agent did not negotiate any contract. That did not happen. Any deal has to be good for me and good for the club, which is my home, where everything started. I arrived with 14 years, I am a Gremio fan at heart, my blood is blue."
Barca have reportedly had a €35 million bid for the player rebuffed, while he has also been linked with a move to Manchester United.