MLS
'Playing in your home country would be special' - Dortmund wonderkid Pulisic open to MLS move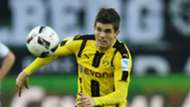 Christian Pulisic says a move to Major League Soccer is not "out of the question" but does not have any plans to join the United States domestic league in the near future.
The 18-year-old Borussia Dortmund midfielder has enjoyed a breakthrough campaign with the Bundesliga side, playing in 42 games across all competitions. He has scored five goals, while helping Dortmund reach the UEFA Champions League quarterfinals, finish third in the Bundesliga and have a chance at the DFB-Pokal crown when he and his teammates face Eintracht Frankfurt on May 27.
The teenager's rising stock has seen him draw interest from the likes of Liverpool in the past, but in an interview with the Guardian, Pulisic talked about a potential move to MLS, noting that it would not rule out in the future.
Cameron signs Stoke City extension
"I'd never put that out of the question," Pulisic told the Guardian. "Playing in your home country would be special; obviously I don't have any immediate plans to do that but it's always an option."
While he is not likely to make an MLS return anytime soon, Pulisic is still complimentary to the league and believes it could be a foundation for the U.S.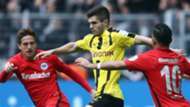 "You see so many people at the games now and it's exciting; we have a really strong soccer league we can build on."
Pulisic hopes he can help in that development, as he aims to be an inspiration for young athletes in the U.S. to choose soccer over other sports. That change, Pulisic believes, can help take the U.S. national team to the next level.
"It's been big flaw of ours in the soccer department that a lot of our best athletes go and play other sports," he said. "But I think young players have seen me, and others, go over to Europe and play in some of the best leagues – and MLS is improving so much too. There's so much potential and I think it's changing: we've had some bigger athletes in the past but I don't think that defines us anymore.
"We're going to keep moving forward, developing young players and we're going to have a really good shot in the next few years."