MLS
Parkhurst acquired by Atlanta United, Johnson traded to NYCFC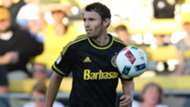 Just hours after MLS Cup ended, Major League Soccer opened its Half-Day Trade Window on Sunday.
Frei makes cup save for the ages
A deal that was reported by Goal USA Wednesday was the first to become official, with Michael Parkhurst moving to expansion side Atlanta United, which added the 32-year-old defender from the Columbus Crew in exchange for allocation money. Parkhurt leaves Columbus after three seasons.
"Michael is a fantastic addition for us, given his veteran leadership and MLS experience," Atlanta technical director Carlos Bocanegra said in a release. "He's proven to be an effective captain and is an ideal role model for some of the younger players on our club.
"Also, he's a very intelligent defender and good on the ball, which fits in nicely with our style of play."
In addition to acquiring Parkhurst, Atlanta was busy filling other roster spots. The expansion side added three other players from around the league — Kevin Kratz (Philadelphia Union), Romario Williams (Montreal Impact), and Harrison Heath (Orlando City).
Just under an hour after the Parkhurst acquisition was made official, Atlanta also announced that it had traded for, then immediately dealt, former Chicago Fire goalkeeper Sean Johnson. The 27-year-old netminder landed with New York City as part of a three-team deal that saw Atlanta and Chicago receive allocation money.
"Sean has been one of the best goalkeepers in MLS over the last five years and has also spent time with the U.S. national team," NYCFC sporting director Claudio Reyna said in a release. "He is an athletic, commanding goalkeeper who is entering the peak of his career and we are excited to have him join our club."
Sources told Goal USA that Johnson has been moved to open up space for Brad Guzan as the starting goalkeeper for Atlanta. 
Now official, Sean Johnson is heading to #NYCFC , which suggests Atlanta United is confident about getting a Guzan deal done. https://t.co/NLXfIEGg2o

— Ives Galarcep (@SoccerByIves) December 11, 2016