MLS
Will D.C. United's Chris Durkin be the next breakout American teenager in MLS?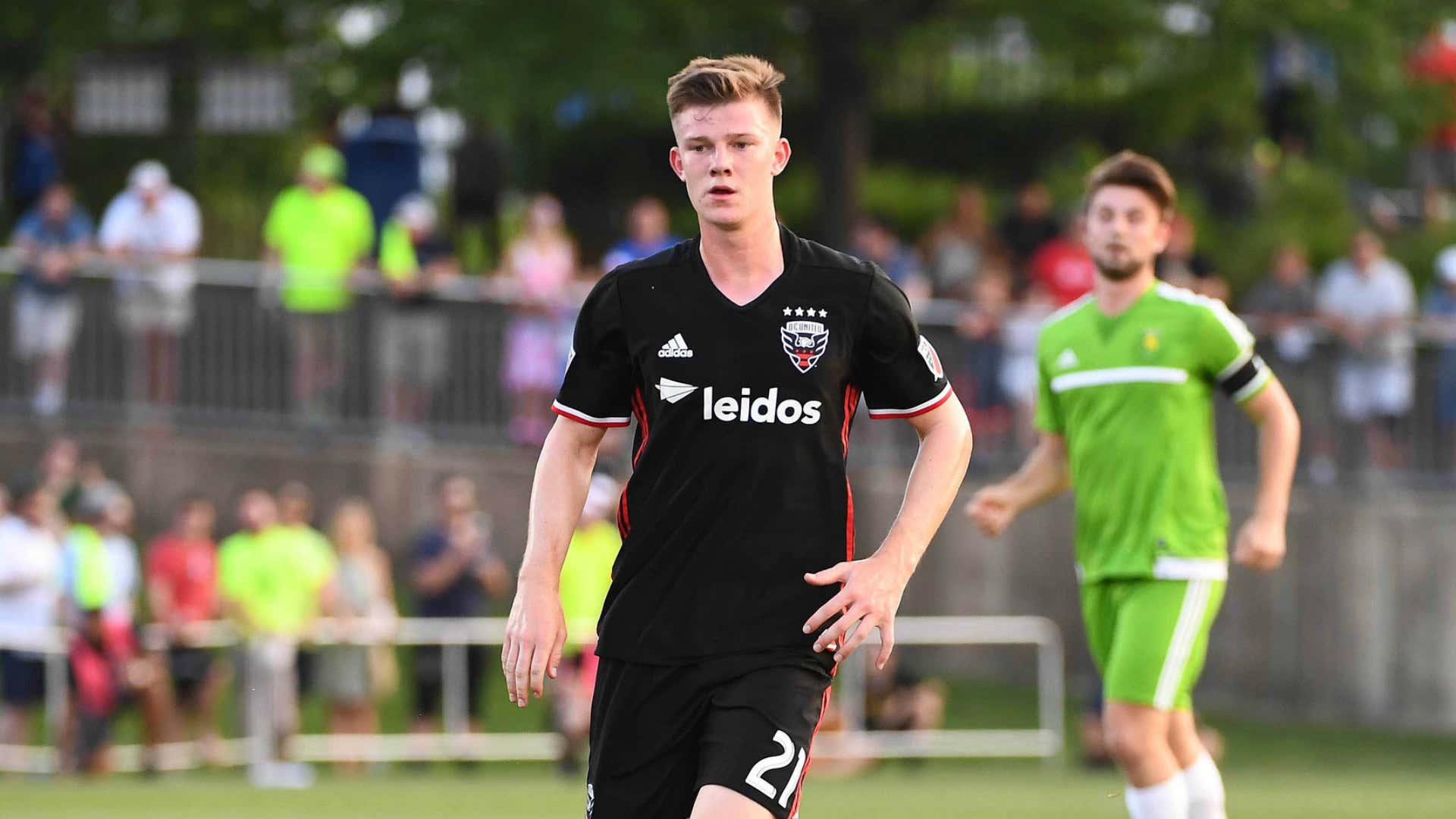 American soccer players rarely used to make professional breakthroughs at age 18, but the standard for what is considered a young pro is changing quickly.
Christian Pulisic, Weston McKennie and Tyler Adams all enjoyed professional breakthroughs before they were 19, and now D.C. United midfielder and former U.S. Under-17 national team standout Chris Durkin is hoping to be the next American teenager to make that jump.
"I think guys like Weston McKennie and Christian Pulisic have set a standard, and I think it's a standard I can achieve," Durkin told Goal. "I know they have sacrificed a lot, and have immersed themselves completely in the culture, and I think more Americans can follow that path.
"It's definitely inspiring and motivating, but I also know every player has their own path. Some people are going to start younger than others, but it's for sure motivating to find minutes professionally."
"Maybe because of Pulisic and some of the other guys really taking it to the next level at a young age that heightens expectations, not only with the media, but also with the players themselves," D.C. United coach Ben Olsen told Goal.
"Everybody's path is different. I've always told this to homegrowns: Not everyone is Andy Najar and jumps on the field and plays," Olsen continued.
"Sometimes it takes more time to get on the field and become a key component on a team. Jalen [Robinson] is a little bit of a slow cooker with us. Every year he gets a little bit more playing time, and becomes more vital to our group. Everyone has their own path, and we'll see what Chris' path is."
Durkin just turned 18 last week, and is now gearing up for a 2018 campaign he hopes can be a launch point for the next skyrocketing American career.
"I think it's a huge year, especially coming off a U-17 World Cup," Durkin said. "That's typically when teams in Europe and players in Europe start to shoot upward. I want to still follow that trajectory they follow, and get meaningful minutes, wherever that is. My main focus is playing and developing. Wherever that is, I think that fits me best."
Durkin made his D.C. United first-team debut in an Open Cup match in 2016, but he saw the bulk of his playing time in 2017 with USL affiliate Richmond Kickers and at the U-17 World Cup.
"I think it was a great year for him, from a development standpoint," Olsen said. "And now expectations and everyone is [saying], 'What's next? What's next?'
"What's next is he comes to preseason, and he competes for a spot and he shows us he's ready to get on the field, like every other player we have coming in."
Durkin is facing plenty of competition for minutes in a D.C. midfield that has several new additions, including Venezuela international Junior Moreno, who figures to be the lead challenger to incumbent defensive midfielder Russell Canouse.
"I know the competition is really difficult right now, with obviously Russell Canouse and Ian Harkes, and some other players we've signed," Durkin said. "I know the midfield is loaded right now, so it'll be difficult, but I've had some talks with Ben and I think he'll give me a fair shot in preseason, but it's obviously up to me to show I'm ready to start in MLS."
Durkin boosted his profile considerably at last fall's U-17 World Cup, where he was one of the standouts on a U.S. team that reached the quarterfinals before losing to eventual champion England. That showing led to an increased level of interest from foreign clubs, with sources telling Goal that teams ranging from Italian side Inter to German club Hannover 96 have made offers for Durkin.
D.C. United has listened to offers, but has yet to accept any of them. Now a move seems even less likely that Durkin is enjoying an impressive preseason with the first team.
"I know that there is serious interest, and there are some offers, but I'm just focusing on preseason, and letting my agent and all the staff and D.C. handle that, because if I get too focused on that it'll consume me," Durkin said. "I have to focus on the football."
For now, Durkin is working on trying to impress Olsen and the D.C. staff enough to earn a place with the first team. The club could still decide to have him spend the season earning regular playing time with USL affiliate Richmond, but Durkin wants to show he's ready to play in MLS right now.
"I love his physicality, I love his mentality. He's aggressive in everything he does," Olsen said. "I think at times he needs to refine some of that aggression and wanting to stamp out every play. He's still a very young player, and still needs to fine-tune his game in a lot of different areas, but I'd rather have it that way, where you have to pull a kid back.
"He's a very competitive kid. He wants to be on the field, and the challenge is finding that sweet spot so he's developing at a very good clip. We'll have a very good plan to continue that development this year."
Though the odds seemed stacked against Durkin playing a major role with D.C. United in 2018, Olsen was quick to defend his track record with young players, which has included giving youngsters such as Najar, Bill Hamid and Perry Kitchen their breakthroughs as young pros.
"I think our club, and me personally, has shown that I will play academy kids in a lot of ways more than any coach this league's ever seen," Olsen said. "Harkes, Bill, [Conor] Shanosky, Ethan White, Andy. You go down the list.
"When and if [Durkin] is ready, we'll get him out there, but you have to keep this in perspective," Olsen said. "He's a great young talent. We see the Richmond games, and World Cup games, and follow him very closely, but we haven't seen him in our environment a lot last year. So now it'll be nice to see him over the two months of preseason and kind of see where he's at and how he stacks up against everybody."