UEFA Champions League
The right-footed Maradona? How world-class Mertens won the love of Napoli - and Pamela Anderson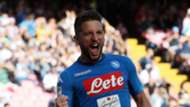 When Dries Mertens' former club Utrecht arrived on Merseyside in December 2010 for a Europa League clash with Liverpool, he ran into actress Pamela Anderson, who was staying at the same hotel.
"She looked at me and fell in love!" he later joked. "My team-mates didn't dare ask her but she posed for a photo with me."
Mertens, it seems, has always been one for making the most of unexpected opportunities. Therefore, perhaps we should not be so surprised that the Belgian winger has developed into a world-class No.9 since being moved into the centre of Napoli's attack almost exactly a year ago.
Then again, not even coach Maurizio Sarri was confident that Mertens could make a success of the positional switch.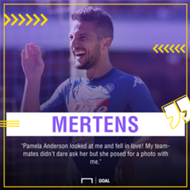 "Frankly, I was fortunate to discover Dries as a centre-forward," the Neapolitan admitted, "because I had to make the change when Arkadiusz Milik was injured last year.
"But it's honestly a pity that we only discovered Mertens as a striker at the age of 28, because he could have been at the top level in the world for years and years."
Indeed, Mertens is no 'false nine', he's the real deal, a complete forward, one of only two players to have both scored and assisted 10 goals in 2017 – the other is Inter ace Ivan Perisic.
Of course, there were never any doubts about Mertens' ability to create chances for others, given his terrific footwork and blistering pace. However, Sarri's decision to deploy him as a No.9 shocked many.
Mertens had netted 11 times during his debut season in Serie A, in 2013-14, but needed another two years to double that tally. Indeed, by the start of the 2016-17 campaign, Mertens was no longer a certain starter and grew frustrated at being used only sporadically by Sarri, who had succeeded Rafael Benitez at the helm that summer.
"I'm basically only playing one of every two games," he told Het Nieuwsblad . "That's sometimes irritating.
"With our busy schedule I understand you can't play every game, but one match in two is too little."
However, after Milik suffered knee ligament damage while on international duty with Poland on October 8 of last year, Sarri was left with the hit-and-miss Manolo Gabbiadini as his only recognised centre-forward, so Sarri turned to Mertens.
The Belgian responded sensationally, netting 26 times in his next 29 Serie A appearances for a grand total of 28 goals from 35 games by the season's end.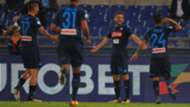 His transformation into a prolific centre-forward prompted the likes of Manchester United, Chelsea and even Barcelona to try their utmost to profit from the fact that Mertens' wife, Kat Kerkhofs, was allegedly unsettled in Naples.
There was also a colossal cash offer from China in January but the Belgium international ultimately decided to extend his stay at the San Paolo.
"My father drove a bus in Anderlecht and he took me to training every day in Brussels from when I was 11 to 18," he explained to La Libre . "I have so much respect for what my parents did. They did not raise me talking about money and I would have disappointed them if I had gone to China.
"You hear players saying that they're signing for the adventure but no-one believes them. Maybe if I had been a substitute, like last season, I would have gone and chosen the money.
"But we weighed up the pros and cons - my wife read testimonials from people of who live there - and you think about the smog and it doesn't seem like a healthy atmosphere.
"So I decided to say no, and I can tell you it's difficult to refuse such an amount. My children and even my grandchildren would not have had to worry about their future.
"It is possible that Barca were also interested, but I have not had any direct contact. After a season like that, I am super happy at my club. I didn't want to leave.
"There was also interest from Chelsea and other clubs, but, in my head, there was never any intention to change clubs. I am happy at Napoli."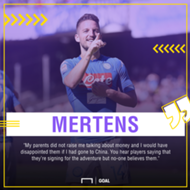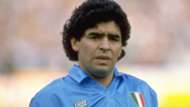 Indeed, Mertens has genuine affection for the club and the city. The fans have always recognised that fact - and loved him for it. Not since Diego Maradona have they so readily taken a player to their hearts.
Even before Mertens started scoring freely, he was referred to as 'Ciro' - a popular Christian name in Naples - because he had immersed himself in the local culture. When he speaks Italian, he often does so in the Neapolitan dialect.
Furthermore, for all of the talk of his wife being unsettled, she has done nothing but cast the city in a positive light in her blog. Indeed, the couple have talked so much about Naples to their friends that they have been overwhelmed with visitors, with Mertens revealing that he once had to go sleep at Gonzalo Higuain's house because "mine was full; my home has become a hotel!"
It is, thus, easy to understand why Mertens decided to stay at Napoli for another season and why he looks just so happy in himself right now, having made an impressive start to the new Serie A season, with six goals in five games.
Indeed, his most recent effort, against Lazio last Wednesday, took the breath away, with Mertens beating a back-peddling Thomas Strakosha with an expertly-weighted, first-time chip from an acute angle wide on the left-hand side of the pitch.
It bore an uncanny resemblance to Maradona's iconic strike against the same opposition in February 1985 and Mertens joked afterwards, "Mine was further out, so I get extra credit!
"I just turned around, saw the goalkeeper was getting slowly back to his line and that there was a small gap, so I said to myself: 'Go for it'!"
After all, he who dares wins. Or better yet, earns the love of an entire city - and Pamela Anderson.