MLS
Marsch: No contact with Red Bull Salzburg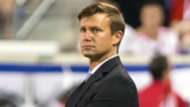 Jesse Marsch cleared the air Friday, denying reports that he was in line to take over as manager of Red Bull Salzburg.
"I'm the New York Red Bulls coach," Marsch told reporters in Los Angeles ahead of the MLS draft. "This whole thing that came out, I can't figure out how to place it, but nothing's ever changed other than facilitating our relationship with our [sister] clubs over there, but I'm the New York Red Bulls coach. Period."
Minnesota United selects Abu Danladi with top pick in 2017 MLS draft
Marsch had been rumored to be heading to Austria to head up the Salzburg outfit, with his assistant Chris Armas stepping up to take the reins of the MLS club. However, Marsch said that while he had been in Europe over the offseason to work alongside NYRB sister clubs Leipzig and Salzburg, it was only in order to improve the Harrison, New Jersey-based outfit that he's been in charge of for two seasons.
"Since the New Year I haven't been in Salzburg, I've been in Portugal with Leipzig. There's been no contact with Salzburg. I was there before Christmas just to spend time with both clubs and watch what's going on there, but I'm the New York Red Bulls coach."
Speculation on Marsch's future began when the 43-year-old was not present at this week's MLS combine. Having arrived in California in time for Friday's draft, Marsch said that he and his staff had planned to divide duties across two continents.
"We decided to split our responsibilities to have them go to the combine," Marsch said. "We're familiar with a lot of the players already and I watched the games online and through the video, so I'm familiar with all the players in the college game right now and we felt, as a network, that it was most important for me to spend some time in Leipzig and continue to work with them and make sure that we integrate all of our clubs together in the right way."
With his feet back on American soil, Marsch left the door open to a future move across the Atlantic Ocean, but reiterated that he has no immediate plans to test his coaching acumen in Europe.
"I'll take it as a compliment that people even think that that's a potential avenue for me, and I've already said publicly that I'm an ambitious guy," he said. "Certainly the opportunity to challenge myself in leagues that are at the highest level, I think is something that interests me very much. But again, right now all my focus has been on the New York Red Bulls."