Indian Super League
ISL 2017: FC Goa's Sergio Lobera: Bengaluru are the strongest team in ISL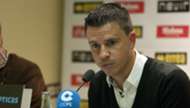 FC Goa will look to turn their fortunes around against Bengaluru FC, after bowing down to Mumbai City FC in their last game. Coach Sergio Lobera showed his respect for Alberto Roca's men but is convinced that they can be beaten if his side sticks to their plans.
"For me, it is important that we maintain our philosophy, our style of play and make sure we execute what we plan to do. With regards to Bengaluru FC, they are strong. The way they have played the first two games they have showed they are the strongest team in ISL so far," said Lobera.
The gaffer is confident with an all-Indian back four but refused to give any hints on a probable shuffle in the back line.
"I am very happy with the performance of Indian players in defence. I will not announce it in front of the press, my players will be the first to know about that."
Lobera stood strongly behind his shot-stopper Laxmikant Kattimani, who has received plenty of flak for his poor performance in the first two games.
"Kattimani is a fantastic goalkeeper. When the league ends I am pretty sure if we assess the number of points we lost or gained because of him, it will come out in his favour. I believe in him completely. It's very easy to criticise goalkeepers as they are always in the spotlight a lot more than the other players. I have full faith in him," defended Lobera. 
Lobera stressed the importance of his first home match and knows that if his team manages to upset Bengaluru then they can climb up the table.
"I know we have to be strong at home. But in order to challenge for the title, we need to be good both at home and away from home. Our aim is to get full points and with six points in total will be right up in the league table."
Lobera was accompanied by Brandon Fernandes who confirmed that he has overcome the injury and is ready to play tomorrow's game. He did not hide his excitement when questioned about his experience playing under Lobera.
"I am very lucky to be a part of FC Goa and playing under new coach Sergio Lobera. He has different philosophy, tactics, and ideas. This is new for me and I am very happy to play under the coach," said Fernandes.
But the attacking midfielder was wary of the threat that Bengaluru FC possesses and emphasised the importance of playing as a team.
"Bengaluru FC are stronger and we have to take them as a challenge and play as a team. We have to play confidently and take it from there."
The Spanish coach is confident that the fans will be treated to an entertaining match as both teams would like to go for the win.
"I think everyone will enjoy the game. Both the teams are attacking in nature. I don't think either will hold back. Roca is a fine coach. I know him from my time at Barcelona. Knowing how his team will play, it will be an open game," concluded Lobera.