Transfers
Highly-rated Ajax starlet admits interest in joining Manchester United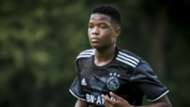 Ajax youngster Daishawn Redan has hinted that a move to Manchester United could be made in the near future.
The 16-year-old forward has been linked with a switch to Old Trafford for some time, with the Red Devils having noted his obvious potential at a young age.
An arrival in English football could be edging ever closer, with Redan opting against the penning of a contract in Amsterdam.
Ajax sensation discusses future plans
That snub has alerted United, Paris Saint-Germain and Red Bull Leipzig to his potential availability, with Redan admitting that the Premier League giants are an enticing proposition.
He told Voetbal International: "I hear a lot of rumours around me and I will not deny that there are clubs that are interested.
"Manchester United is a very nice and good club of course and I must admit that I am interested in an adventure like that."
Said Ouaali, the head of Ajax's youth academy, confirmed the contract snub on the club's official website: "We have made a plan for him and had a lot of talks with Daishawn and his management. It's a shame that he will not sign his first contract here.
WATCH: Cruyff's best goals for Ajax
"We think that he has made a decision about another club."
Redan told Goal during an exclusive interview in February that the interest being shown in him by the likes of United is inspiring him to bigger and better things.
He said: "If you know a club like Man United is interested, that only gives you confidence and you will do everything you can to get better."