Nigeria
Why Waldrum rejected Super Falcons job - Chris Green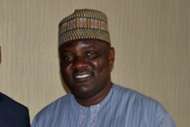 Chris Green has revealed that the Nigeria Football Federation failed to enter negotiations with Randy Waldrum to become the head coach of the senior women's national team.
Green, who was the chairman of the NFF technical committee until October, had supervised the recruitment process, and subsequently recommended Waldrum for the vacant post.
In September, the NFF executive committee had ratified the recommendation of the 61-year-old, and also immediately ordered further talks to be completed.
Unfortunately, the inconclusive negotiation process forced Waldrum to take up the head coach role at the University of Pittsburgh women's team earlier on Tuesday.
And Green, who headed the NFF technical committee when Frenchman Paul Le Guen rejected the Super Eagles job in July 2016, is disappointed, admitting the NFF has some share of the blame.
"I'm quite disappointed that Randy Waldrum was appointed and he decided not to come again," Green told BBC Sports.
"But again I'm actually disappointed in the fact that I thought we had a good coach in him. He said in his letter [to us] that from when the [NFF] president gave him the job, they did not do anything or contact him any further.
He continued: "It doesn't speak well of Nigerian football that after the Paul Le Guen saga this one is happening again, it doesn't speak well, but what can we do? We just have to learn and move on.
"There are other things that are required like signing the contract itself, working conditions, and all the basics that parties have to agree to - nothing was done.
"Nigeria is a great country with the abundant talent for anyone to want and coach, but on our own part [as administrators] there are many things we should have done that are left undone.
"Administratively, that is not how to get things to work out for an organisation like the NFF or in football generally because things are changing in football with new dynamics. We just have to learn and move on," he concluded.
The Super Falcons will be hoping to get a substantive coach ahead of their participation in the maiden 2018 Wafu Women's Cup in Abidjan slated for February next year.