FA Cup
Nwakaeme pays tribute to Nor Azam's incredible pass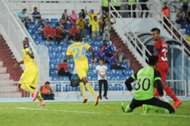 Former Pahang player, Dickson Nwakaeme took to social media to express his delight at seeing his former team beating Johor Darul Ta'zim to reach the 2018 Malaysia FA Cup semi-final.
The Nigerian who played for the Elephants for two seasons from 2014 to 2015 is a firm favourite at Pahang for the performance that he put in during his time there as well as helping his team to FA Cup and Malaysia Cup triumph in his first season.
In the video that was shared on his Instagram page, Nwakaeme praised the entire Pahang team but reserved special mention for one Nor Azam Azih, who helped create the opening goal for Patrick Cruz, one that turned the tie on its head.
"Even when we played for Pahang. Me, Damion (Stewart), Matias (Conti), Zesh (Rahman) - we had a good squad but still cannot win at Larkin stadium. 3-0 is amazing. Thank you Patrick Cruz. Azam, I saw your pass. From how many meters. Good goal from Patrick Cruz, but this is the best action I like."
"Thank you so much Pahang, you made my day. This is an early birthday present for me. Terima kasih. It's a pleasure to win every game but winning at Larkin stadium is amazing, trust me. Very good job from the boys. From starting to the end. Very good game, I'm so so happy with this game.
"Thank you Azam. My player since a long time. That pass, it's difficult to see in Malaysia. The vision at your age. Respect. Terima kasih Azam. Saya cinta kamu. Class. This pass is like (Zinedine) Zidane, Steven Gerrard, Xabi Alonso - only legend can pass this ball. The vision and everything.
"You are already legend at your age, Azam. I hope you stay at Pahang forever. You don't go anywhere. This is good for you. Many people when they change club, it's difficult. So stay in Pahang, Azam. Don't move anywhere. Finish your career in Pahang. You're a legend already, Azam," enthused an excited Nwakaeme in his video.
After leaving Pahang, Nwakaeme joined French Ligue 1 side Angers SC but only spent one year there in the 2016-17 season. There has been constant rumours linking him back to Pahang and after this show of support, few Elephant Army would disagree.