Alex Morgan
Alex Morgan: U.S. women may still strike for new CBA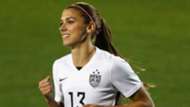 U.S. national women's team star Alex Morgan says a strike by her teammates is still possible if a new collective bargaining agreement is not reached between the players and U.S. Soccer.
The U.S. women are still without a CBA after a court-enforced agreement expired at the end of 2016. Morgan and her teammates are looking to secure pay that is equal to the men's team, arguing the revenue they generate merits it.
Benny Feilhaber relishing second chance with USMNT
In addition, Morgan emphasized in an interview with the Guardian that fight for equality against gender wage discrimination is a key reason driving the women's team.
"Sometimes it feels a little redundant and I wish we didn't have to fight so hard," Morgan told the Guardian. "But you see female actresses and singers standing up for themselves as well as women in general. A woman earns an average 73 cents to the male dollar in the U.S. So there's still a long way to go. There's hope in the fact that so many people know about our struggle in football – with the CBA and our fight for equal pay. The fact that the agreement was such a big deal last year showed how much the women's game has grown."
Morgan, who is currently on loan with Lyon in France, spoke of a possible strike as a continuation of a worldwide effort by women's soccer teams to achieve what they deserve.
"It's necessary for change sometimes. It wouldn't be the first time women decided to strike. Colombia and a couple of other countries might do the same. And Australia didn't play us a year ago because of the same battle. We were supposed to play them in a few weeks and they decided not to get on the flight because they weren't getting paid what they were worth – or anywhere close," Morgan said.
"To force a change sometimes you need to stand up. You know what you're worth – rather than what your employer is paying you. We're not scared. To move the women's game ahead we need to do what's necessary. I feel other national teams are looking at us for that guidance."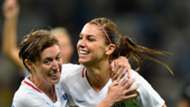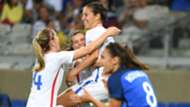 A strike had been floated as a possible option in 2016, which could have kept the women's team from playing in the Rio Olympics, but U.S. Soccer preemptively sued to prevent a move from taking place. The courts sided with the federation, mandating the CBA continue until the end of the year. With the CBA now expired, the strike option is back on the table for the women's team, though Morgan conceded it is not a guarantee and that the team holds less leverage without a World Cup or Olympics this year.
"The fight is about receiving equitable treatment – not just pay," she said. "Our CBA ended last month so right now we're locked with the status quo. Neither U.S. Soccer nor us have submitted anything that says they'll lock us out or that we will strike. We're hoping to reach agreement – but there eventually needs to be pressure from one side to meet in the middle.
"We don't have a World Cup or Olympics to use as leverage while we negotiate a new contract. But we have an important tournament coming up [in March]. The SheBelieves Cup brings France, England and Germany to the U.S. Before we play those matches we want to get a deal done so we can move on."
However, the attacker believes much of the change has to come from FIFA. Morgan, like the rest of her teammates, took offense to the 2015 Women's World Cup being played on artificial surfaces and believes the global organization needs to take the lead in bringing respect to women's soccer, starting with win bonuses.
"I understand there's much more money in the men's game. But FIFA spent so much time on the men they now need to focus a little more on us. I would like to close that gap even if I'm not expecting it to be equal. I'm not expecting there to be a huge jump and the win bonus to be $35 million when, for the women, it's $2 million. I don't think the entire world respects women in sport. But if FIFA start respecting the women's game more, others will follow."
Morgan later added that while she hopes equality happens, she doesn't expect it soon.
"Ten years? I don't know. Twenty years I see as definitely doable. FIFA has to do a lot more to evolve our game because women in sport aren't respected equally around the world. Our current battle in the U.S. will get resolved but I don't believe the fight will ever end globally for the women's game. We will always have to fight for our rights."