NPFL
Rivers United striving to become the best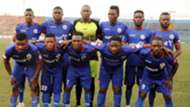 Rivers United general manager, Okey Kpalukwu has revealed that the club is doing everything possible to return to the pinnacle of football in Nigeria.
On Saturday, the Pride of Rivers unveiled their newly signed players at the Yakubu Gowon Stadium and the club's boss reiterated their aim to return to the top.
"We want to make this a tradition as our objective remains becoming the foremost football club in Nigeria," Kpalukwu said in a statement from the club.
"We want to do well in the 2018 season and everyone at the club in all departments is seriously going about their business to see that set objectives are met at the end of the season."
Two of the newly signed players: Prince Aggrey [from FC IfeanyiUbah]  and Oche Salefu promised to do their best to ensure that Rivers United become the talk of the season.
"I will wear the number 10 jersey and I understand the responsibility that comes with that. I think my contribution will act as a big plus to the team," Aggreh said.
"Most of the new players that have joined the club are good players; quality players and I believe we will contribute to making this club the best in Nigeria."
Salefu, on his part, said: "I want to do even better than what I did for Remo Stars here at Rivers United.
The newly signed players are: Emeka Nwabulu, Samuel Ganda, Bamba Bakary, Akeem Balogun, Samson Gbadebo, Ikeleji Bello, Sunday Afolabi, Eneji Otekpa, Roland Koffi, Morris Chebem, Salefu, Aggrey, Samuel Akinbinu, Malachi Ohawume and Elum Sochima while Robert Cole and Godwin Obinze were recalled from their loan moves.
Rivers United will start the new season with a home game against El Kanemi Warriors at the Yakubu Gowon Stadium on Sunday.