CAF Champions League
Eding Sport in disarray ahead of Plateau United clash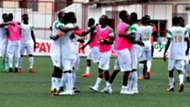 Cameroonian league champions Eding Sport have asked head coach Anicet Foe Mbarga to step down until further notice ahead of their Caf Champions League clash with Plateau United.
Goal understands the decision to suspend coach Mbarga was not connected to the Lekie-based outfit's 2-0 loss to Elite Two division side As Fortuna in a friendly on Monday.
Team's gaffer was accused of violating instructions of the club's president Saint Fabien Mvogo following an angry exchange between the two both, with the latter querying him to provide explanations for his actions on Saturday.
Meanwhile, team's technical director Djonkep Bonaventure has been asked to take over temporarily and will lead the Cameroonian side against the Nigerian league champions.
Interim coach Bonaventure will be assisted by Sabastien Bata Ntjam, Dayim Epiphanie as physical trainer and Younoussa Bouba Oumourou as goalkeepers' trainer.
With its Elite One 2018 season commencing on February 11, Eding will play their first competitive match of the year against Kennedy Boboye's men at the New Jos Stadium on Saturday.