Tottenham Hotspur
Alli tops Mbappe and Dembele as world's most expensive young player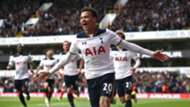 Tottenham Hotspur star Dele Alli has been named as the most expensive player under 21, having been valued at over €20 million more than Kylian Mbappe.
Get the odds on Spurs to win Premier League
After scoring 26 goals in all competitions last season as Monaco won the league and reached the Champions League semi-finals, 18-year-old sensation Mbappe is expected to overtake Paul Pogba as football's most expensive player in history if he leaves this summer.
Real Madrid and Paris Saint-Germain are leading the chase to sign him, with the French side seeing an offer of over €135m rejected.
However, the latest Soccerex report on players born on or after January 1, 1996 by Prime Time Sport has given 21-year-old Spurs man Alli a valuation of £73.6m (€82.6m).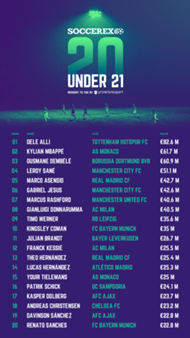 The report considers the player's age, position, current club, contract length, market value perception, international caps, minutes played, goals, injuries and technical quality from various sources to determine each valuation.
And, after being named the PFA Young Player of the Year for the second season in a row this year and scoring 18 Premier League goals in 2016-17, Alli has been listed as being worth more than any other young player in the world. Mbappe trails him with a price tag of £55m (€61.7m).
According to Soccerex's previous report, Alli's value has more than doubled, given he came fourth last year with a price of €34.1m touted.
Borussia Dortmund youngster Ousmane Dembele, 20, is third in the list with a worth of €60.9m – last year it was €14m – while Leroy Sane (€51.1m) and Marco Asensio (€42.7m) make up the top five.
Marcus Rashford is only the second English player to make the top 20, coming in seventh and tipped to cost €40.6m – up from €22.5m last season – but he comes in behind Manchester City counterpart Gabriel Jesus. The Brazilian was 11th in the chart last year with a value of €19.8m, but it has risen to €42.6m.
In a list dominated by forwards and midfielders, AC Milan goalkeeper Gianluigi Donnarumma has done well to come in eighth. The 18-year-old Italy international was 20th last term with a figure of €13.7m attached to him, but this year Soccerex reckon he is worth €40.5m.
The highest ranked defender, though, was Theo Hernández, who Real Madrid signed from Atletico Madrid for €24m this summer, which is close to Soccerex's valuation of €24m.