AIFF Super Cup
Super Cup 2018: Mohun Bagan, a tough nut to crack for Shillong Lajong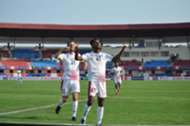 Apart from short periods in the match where Shillong Lajong looked like they could challenge Kingsley Eze and Gurjinder Kumar, Mohun Bagan had a comfortable outing in the quarter-final of the Super Cup on Wednesday in Bhubaneswar.
The Kolkata-based I-League team has been dependent on top scorer Aser Dipanda's goals most of the season but despite him firing blanks against a fragile Lajong, Bagan sealed the deal in regulation time.
The star of the show for The Mariners was Sheikh Faiaz, who tormented the flanks and made sure that the Lajong defence had an evening to forget. Faiaz's clever diagonal run into the box unlocked the backline and Dipanda brilliantly spotted the run.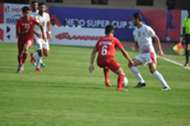 It is never about the beginning of the move, it is how it ends that matters. Faiaz brought the ball down inside the crowded penalty box and fired Bagan into the lead in the 12th minute.
Lajong failed to turn up for the quarter-final and they had no clue on how to get back into the game. As a result, Mohun Bagan did not, at any point of the match, feel the need to take risks. 
It didn't take a risky move to double Mohun Bagan's lead. A simply stunning long-range effort by Nikhil Kadam flew into the net off the underside of the crossbar. The transcendent nature of the effort by a player like Kadam was the unambiguous reflection of the confidence that Mohun Bagan felt in the game. There was utterly no danger to worry about at the other end of the field.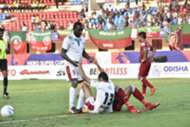 Young skipper Samuel Lalmuanpuia had a poor outing and a disastrous spot-kick attempt three minutes after Nikhil's goal was only the first of his many wretched outputs throughout the game. The poor display by Lajong's frontline also helped hide the woeful slump that defender Kinshuk Debnath finds himself in. The defender recklessly barged into Sheen Stevenson to concede one of the few good openings of the game for Lajong.
Kingsley missed a simple clearance inside the box and allowed Samuel to square onto to Abdoulaye Koffi's path. Kinshuk drifted out of position, allowing Koffi to ghost into the box and head in what would later turn out to be a mere consolation goal. It was one of those rare periods in the game where Lajong's pseudo-dominance fooled the eyes of the viewers. 
Bagan continued to stroke the ball all over the park and faced no resistance from their opponents. It was the icing on the cake when Akram Moghrabi pulled off a less attractive version of Robin Van Persie's diving header off a David Beckham-esque cross from the right by Arijit Bagui as a solid Mohun Bagan enjoyed a comfortable afternoon.