Transfers
Serero: Ajax Amsterdam wanted me to join Apoel Nicosia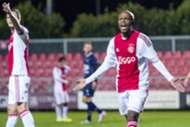 Bafana Bafana striker Thulani Serero is not feeling despondent after Ajax Amsterdam tried to force a move on him with Cypriot side Apoel Nicosia in the January transfer window, and told him so just hours before the transfer deadline.
"I could have gone home and sat and cried but I chose for the other option: holding my head up high and keeping a positive attitude. That was my goal for the season' plus playing well for the national team.
"I'm a strong person and I don't allow myself to be pressurised'" Serero told the Dutch media.
The 27-year-old was left out of Ajax when Peter Bosz took over as he vehemently stated he did not want Serero in his squad.
This forced Serero to sit out the rest of last season without any action, as he was not prepared to move to another team for lesser money.
He recently signed a three-year deal with Vitesse Arnhem, bringing an end to a frustrating six-year spell at the Amsterdam Arena under Frank De Boer and Bosz respectively.
In relation to the purported Cypriot deal, Serero was unaware of it and as such refused to move, though not being allowed to play pained him the most.
"I can look at myself in the mirror because I have always been good to everyone at Ajax and always gave my best. The worst for me was not being allowed to play. It has pained me'" Serero said.