United States
Who joins Pulisic? Projecting the USA's 2022 World Cup squad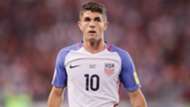 Five years. Five long years. That is how long it will be — at the very least — before the U.S. national team will take the field again in a World Cup.
Plenty will change in those five years, including the talent pool that makes up the U.S. squad. A generation of players is coming to the end, including legends like Clint Dempsey and Tim Howard, but their departures will open the door for new talents to emerge.
As grim as things feel, there is talent in the pipeline, and whoever is ultimately hired to coach the team heading toward 2022 will have some promising players to mold into a team capable of not only qualifying for the next World Cup but actually having success in Qatar in 2022.
Projecting a World Cup team five years away is always going to be a bit of a futile exercise, but with several talented youngsters already making their way up the American soccer ranks, the U.S. 2022 team isn't that difficult to start outlining. One thing we can expect is the 2022 team to be a young one, what with the pool of top players who would be 29 and older being a thin one. There are plenty of players who will be in their 30s who might make surprising pushes into a World Cup role, but pulling that off will be made tougher by the stacked talent at certain positions.
There are positions that remain a concern, specifically left back and left winger, though that is nothing new for the U.S. program. Viable wingers remain a concern on both flanks, though right back is shaping up to have some very good options.
Central defense should be an area of considerable depth and strength heading toward the 2022 World Cup, and the defensive midfield options should give whoever is coaching the U.S. plenty of candidates for the role of Christian Pulisic's midfield bodyguards.
Of course, so much can change in five years. Consider that few outside Pennsylvania had heard of Pulisic back in 2012. There will be surprising names that emerge, and promising players who fall by the wayside. It happens every cycle, but this time around, with U.S. fans desperate to see new talents emerge, even more pressure will be on to unearth gems.
What will the 2022 U.S. World Cup team look like? Here is a group we could see coming together:
---
GOALKEEPERS
---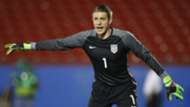 MAKE THE CUT: Ethan Horvath (27), Bill Hamid (31), Jesse Gonzalez (27)
OTHER POSSIBILITIES: Zack Steffen (27), Jonathan Klinsmann (25), Alex Bono (28)
OUTLOOK: With Tim Howard and Brad Guzan coming to the ends of their lengthy national team careers, a major void opens up at a long-held position of strength. Horvath has settled in well since making the move to Club Brugge, and is the only American goalkeeper playing regularly in Europe.
Hamid could challenge Horvath for the starting role very soon, with a move to Europe looking like a strong possibility this winter. Gonzalez has yet to make his national team debut but is a highly regarded prospect, and one of the best young goalkeepers in MLS.
The Klinsmann name will raise eyebrows, and Jurgen's son impressed as the starter for the U.S. Under-20 World Cup team earlier this year. He signed with Hertha Berlin but has yet to break into the first team, so it's a bit early to tell how he will fare as a pro.
---
DEFENDERS
---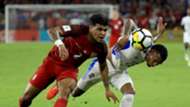 MAKE THE CUT: DeAndre Yedlin (29), John Brooks (29), Matt Miazga (27), Cameron Carter-Vickers (24), Erik Palmer-Brown (25), Danilo Acosta (25), Justen Glad (25), Matt Olosunde (24)
OTHER POSSIBILITIES: Tim Parker (29), Nick Lima (28), Walker Zimmerman (29), Jaylin Lindsey (22), Marco Farfan (24), Brandon Vincent (28), Tomas Hilliard-Arce (26)
OUTLOOK: Yedlin has developed into an excellent right back, and could have enjoyed a true breakout at the 2018 World Cup, but he will have to make due with being the veteran on the 2022 team. Brooks also makes our squad, but you wonder how persistent injury issues will affect him going forward.
There are plenty of good central defender prospects, led by Miazga and Carter-Vickers, who starred together on the U.S. Under-20 World Cup team in 2015. The lack of quality left back prospects continues to be a problem, and could get even worse if Acosta chooses to play for Honduras.
Remember the name Olosunde. The Manchester United right back boasts impressive size and athleticism, and is honing his technical quality in the youth ranks of one of the world's biggest clubs.
---
MIDFIELDERS
---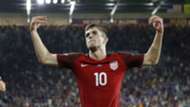 MAKE THE CUT: Christian Pulisic (24), Kellyn Acosta (27), Paul Arriola (27), Weston McKennie (24), Tyler Adams (23), Jonathan Gonzalez (23), Emerson Hyndman (26), Lynden Gooch (26)
OTHER POSSIBILITIES: Chris Durkin (22), Cristian Roldan (27), Kenny Saief (28), Sebastian Lletget (30), Brooks Lennon (25), Russell Canouse (27), Josh Perez (24), Giovanni Reyna (20), McKinze Gaines (24),  Wil Trapp (29), Nick Taitague (23), Michael Bradley (35)
OUTLOOK: Pulisic will be the cornerstone of the U.S. attack if he continues to develop the way he has over the past two years. He has the characteristics to be a true international superstar, and the onus will be on the next U.S. coach to build a team capable of giving him the right support. That will start with some strong defensive midfield options, and McKennie and Adams look like excellent candidates. With Gonzalez starting for Monterrey in Liga MX, the central midfield pool is a strong one going forward.
The competition for places will be fierce, and there are some youngsters who could break through, such as U.S. Under-17 standout Durkin, as well as Reyna, son of former U.S. captain Claudio Reyna, who is showing incredible talent at the age of 15 and is probably the player most likely to enjoy a rapid rise like Pulisic did.
Wing options are scarce, with players like Lennon and Gaines having the potential to challenge for flank roles.
One name to think about is current U.S. captain Bradley. He isn't about to retire from the national team, but he will be 35 when the next World Cup rolls around. He should continue to be a key figure for the U.S. when 2019 arrives and the next Gold Cup is played, but will he still be viable in 2022 or will he make way for the plethora of defensive midfield options coming down the pipeline?
---
FORWARDS
---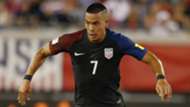 MAKE THE CUT: Bobby Wood (30), Jordan Morris (28), Jozy Altidore (33), Josh Sargent (22)
OTHER POSSIBILITIES: Haji Wright (24), Ayo Akinola (21), Gianluca Busio (20)
OUTLOOK: Altidore's inclusion might surprise some, particularly given the fact he will be 33 when the 2022 World Cup kicks off. But he's been in excellent form, and if he can continue to stay healthy, he could wind up still being a strong option. There are also no clear-cut replacements as target striker options. 
Sargent is the exciting newcomer in the bunch. Though he isn't lighting up the Under-17 World Cup the way he did at the Under-20 World Cup, the soon-to-be Werder Bremen signing has all the qualities to be a difference-maker, and he could wind up being Pulisic's go-to attack partner.
Looking for a player to emerge as a Pulisic-like revelation? Sporting Kansas City signing Busio joins Reyna as the two most promising prospects in the U.S. Under-15 program, and both are considered elite-level prospects. If Altidore isn't around anymore, that could free up a spot for Busio or Wright.
---
PROJECTED STARTING XI
---