MLS
Longtime friends, USMNT hopefuls Garza and Villafana set to face off in MLS Cup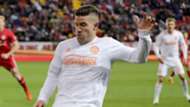 Greg Garza and Jorge Villafana have a past. The two count each other as long-time friends dating back to their time as teammates with the youth national teams. They're players who have taken similar paths from Mexico back to the U.S. and, ultimately, into the U.S. national team. 
On Saturday, the two will face off in the present as Garza's Atlanta United hosts Villafana and the Portland Timbers in the MLS Cup final. It likely won't be the last time the two do battle as, with a new manager finally in place, the defenders could very well be competing for the national team's long-problematic left back spot in the very near future. 
Villafana, who famously came to the forefront after winning the Sueno MLS player search competition, has experienced an MLS Cup, having truly made his name through the Timbers' 2015 title run. In that year's MLS Cup final, Villafana was singled out by the Columbus Crew and responded by putting in a Man of the Match performance, prompting a move to Santos Laguna and, eventually, a spot with the national team. His time in Mexico lasted two years before the 29-year-old fullback returned to MLS in August and immediately reclaimed his spot as the starting left back in Portland. 
Garza's move from Mexico to MLS preceded his former youth national team teammate by one year. The 27-year-old defender became a key piece of Atlanta's initial roster build on a loan deal from Club Tijuana, where he won the Apertura title in 2012. He signed with Atlanta permanently in November 2017, although injuries limited him to just 11 matches in 2018. 
Similar paths for two former teammates who met as teenagers and will now face off with a major trophy on the line all these years later. 
"I don't call him Jorge, I call him 'Sueno', because that's what I always knew him as from when I was 16 years old and he started coming into national team camps," Garza said. "He wasn't a left back then, and neither was I. It's kind of funny to see how we both ended up at the left back position as a pro and, for the both of us, I'm a good friend of his and he's a good friend of mine." 
"I've known Greg for a long time, way back," Villafana added. "I remember the U-23s with [former Timbers coach Caleb Porter]. I've known him for a long time. He's a great person, an amazing guy. A great football player. He has a lot of the same qualities that I have. We're good with the ball and going forward." 
Timbers defender Zarek Valentin has also called both Villafana and Garza teammate for quite some time. Garza and Valentin met when they were 12 years old, playing together as U-13s and U-14s before becoming roommates in the residency program. Garza says he and Valentin have been in constant communication since the MLS Cup match was set, with the two swapping pictures dating back to a Mexico trip with the U-14s. Back then, Garza was a left mid, wearing the No. 10 as Valentin remembers, and the two remain close friends to this day.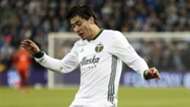 Villafana came into the picture a few years later, as Valentin counted Villafana as a teammate with the since-defunct Chivas USA before becoming locker-room neighbors with him once again with the Timbers. 
"They both are very intelligent players," Valentin told Goal. "Attacking-minded, they're both incredible. They both make plays, and they also both defend well. I see a lot of similarities. It's fun playing with them and, even playing in Mexico, they have those similarities. Following their paths, they won't battle it out together because they'll be on opposite sides, but with them and a few other left backs, left back should be a decent position for the national team going forward." 
That national team goal may not be at the forefront for Garza and Villafana at this very moment, but it will certainly come into the picture soon. One of recently-named USMNT manager Gregg Berhalter's bigger personnel tasks will be finding an answer at the position. Villafana has earned 21 career caps while claiming a Gold Cup title in 2017. Garza has collected 10 caps with his promising national team career often impacted by injuries.  
"I love it," Villafana said of Berhalter's hiring. "I've seen the way he was when he was at Columbus, the way he worked with the team, the style of play they had. I like it. When you have that style, when you have the ball, you create more opportunities. The U.S., right now, more than anything needed a coach, and I think Gregg is a great hire that will do good for the U.S. going forward. 
"Every player has to adapt to the way the coach wants you to play," he added. "It all depends on what he wants you to do and the role. Right now, I would be happy to get called up, but I'm focusing on doing my job with Portland and my game. And when my time comes, I'll be proud to represent my country and I'll do it proudly. It depends what the coach wants you to do. I'd be more than happy if [Garza] got a call too, in the future." 
Before that, they'll face off. Garza's Atlanta United remains a heavy favorite to lift the trophy in front of a home crowd, but Villafana's Timbers have upset Sporting KC, FC Dallas and the Seattle Sounders to book their ticket in MLS Cup. 
It's the next step for two defenders who have experienced winding career paths since first meeting as teenagers and battling in front of over 70,000 fans with an MLS Cup on the line seems a far cry from the youth national team camps that must feel like a lifetime ago. 
"It's crazy how much time has passed," Garza said. "It's been 15 years, and we're still in touch with most of those guys, and we're all very proud of that."