Honduras
Figueroa: Honduras isn't going to Mexico just to hang out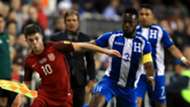 ---
EXCLUSIVE
---
It doesn't look good for Honduras after a promising start to the decade.
Los Catrachos have been to the previous two World Cups, with qualification for the 2010 tournament their first trip to the sport's biggest stage since 1982. Fans rejoiced and began to expect more from their team, but getting back to the World Cup for a third time will be difficult.
Honduras currently sits fifth in the Hex, the final round of qualification in CONCACAF, outside the top three automatic qualification spots and the fourth-place position that will go to a playoff. And Thursday's match against Mexico in the Estadio Azteca is the first of three straight away trips Honduras will make.
Sizing up the USA's Gold Cup roster
Despite that, Honduras captain Maynor Figueroa says there's no added pressure on the team to get into the tournament, just a feeling of need to get back.
"I see it as a desire every player has because qualifying for the World Cup is the top thing you can aspire to," Figueroa told Goal. "I've had the chance to be in two World Cups, and obviously I'd like to close out my cycle with a third. That's not to say there's pressure because practically we haven't felt anything. But as professional players, if we're in the national team it's because we have goals. One of those is to qualify. That's why we're going, not just to hang out. We believe that, with God first, we can achieve it."
It will take faith for Honduras to get into the top four of the Hex, but it also will take resiliency. Honduras started at the bottom of the Hex in 2010 before vaulting into the qualification place in the third round of matches. It was the opposite story in 2014 when the team started off as the leader of the pack but ended third.
Not only is Honduras sitting in a worse position than in previous cycles at this stage, it also is still recovering from a 6-0 drubbing the United States handed it in March. The team was, however, able to bounce back and secure a draw at home against Costa Rica, a point that Figueroa said showed the character of the team.
"I think in the toughest moments, when we've been there, those aren't moments that we've forgotten not only in this qualifying cycle but also in the last one, at the end we've always been able to achieve our goal," he said. "We weren't at the place where we wanted to be, but we've got to be very brave.
"Obviously, the game against the United States hurt us. We arrived to Honduras for the game against Costa Rica a bit beat up and also weren't able to win this game, but also didn't lose it. From there, there are still chances, and as I said, we're going to keep fighting."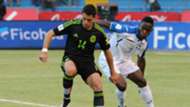 Though Honduras has every intention to continue its battle to get back to the World Cup, an away trip to Mexico is the last game coach Jorge Luis Pinto wants to see up next on the schedule. El Tri top the Hex and are yet to lose in qualification with the enormous stadium at altitude posing a number of challenge for visiting sides.
You'd think Los Catrachos could take comfort in the fact that they've taken a win and a draw off Mexico in their last two trips to Mexico City, but Figueroa dismissed the idea that the win in 2013 or last year's fourth-round draw would have anything to do with Thursday's contest.
"It gives us a nice outlook, but soccer is day to day," he said. "I think ahead of both those games we had really good preparation, we did what was necessary to be able to be in good conditions. We hope that happens again on this occasion, that everyone who is part of this national team has that same willingness."
One thing that could change from Honduras' fall draw in the Azteca is the team's tactical scheme. While Pinto generally plays with a 5-3-2 system, Honduras went with a back four to face Costa Rica and looked more comfortable. Figueroa is the fulcrum of the defense and said the team is comfortable in either, with the five-man line not at fault for the heavy loss to the U.S.
"We feel good playing both ways. What's important is the form we arrive in and the willingness we have to be able to do things as well as possible," he said. "I think at the time, I don't know if it was the conditions in the stadium but at the best it wasn't our best and from there the United States got everything right.
"Starting the match, I think conceding this first goal and then the second so quickly I think cut us down, it weakened our ability but with the back five we also went and got a result in Mexico. I think beyond the scheme the coach is using, it's about how ready each individual player is."
And Honduras' players must be ready for a tall challenge this week or else their dream of returning to the World Cup in summer 2018 will be dashed before summer 2017 is over.
"We hope to be able to get a result that keeps us alive, with the dream in tact, to keep having the ability to fight," Figueroa said. "Obviously we're in a tough spot in the table. It's going to be an extremely tough game for us, being away in the altitude and everything, but we're gotten good results in the last two matches there and I think we have to go from there."