Africa Women Cup of Nations
EXTRA TIME: South Africa and Nigeria followers optimistic after Awcon group stage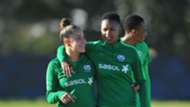 South Africa and Nigeria are through to the semi-finals of the Africa Women Cup of Nations. 
Banyana Banyana beat the Super Falcons 1-0 early in the group stage. After two impressive victories, Nigeria will be hoping to meet SA again to set the record straight in a possible final.
First both teams need to earn that right as South Africa face Mali, and Nigeria face Cameroon in the two semi-finals.
Notably, none of these four nations have a 100% record. Banyana lost two points in a draw against Zambia, and Cameroon drew against Ghana. This goes to show that on the day anything can happen and these teams will need to be at their best to make sure they progress.
The first objective will be to win their last four encounter and qualify for the World Cup. One of the two losers could qualify when they face each other in the third place play-off.
We've put together a feature compilation of fan, media and player reactions at the end of the Awcon group stage.
The front three that are taking #AWCON by storm If you don't know yet, you will soon. #limitless pic.twitter.com/VhJpWnXG5h

— KJ (@kierenjacobsen) November 22, 2018
Oshoala masterclass takes Super Falcons to AWCON semis pic.twitter.com/ZmVhLzBc0l

— super game company (@supergamecomp) November 25, 2018
AWCON 2018!! Zambia and South Africa on FIRE!! pic.twitter.com/GHDqPIkRIu

— Afia Appiah (@AfiaAAppiah) November 24, 2018
Perhaps not the best performance by the team today but hey... WE TOP THE GROUP and qualify for the semi finals of the @CAF_AWCON 

— Janine Van Wyk (@Janinevanwyk5) November 24, 2018
'We've reached our first goal' - Nigeria's Dennerby delighted with Awcon semi-final berth https://t.co/lFxsJnzS1T pic.twitter.com/EK0c6YLhCy

— Goal Nigeria (@GoalcomNigeria) November 25, 2018
Girl child must be given an opportunity in football.Watching @CAF_AWCON makes me belive that South Sudan women football will one day rise.2019 is the beginning of good things for women football we have to invest in them.Nothing is impossible with a sound vision and mission pic.twitter.com/27zxyr7KGS

— Francis Paul (@FrancisAmin2) November 26, 2018
Here are your #AWCON2018 SEMI-FINALISTS: 

After meeting in the last 2⃣ AWCON finals, 🇨🇲 & 🇳🇬 meet in the semis this time. #TheRematch.

Nations  #FIFAWWC slots up for grabs. #TotalAWCON2018 || #TotalAWCON18 pic.twitter.com/cE6WtFzQfr

— JWsports1  (@JWsports1) November 24, 2018
The group stage is done. Here is the @CAF_Online best XI#TotalAWCON18 pic.twitter.com/RxV1Wh95dI

— Total Women's Africa Cup of Nations (@CAF_AWCON) November 26, 2018
South African women continue to make strides in sport internationally.

Like and retweet to share the news! #WomandlaInSport #GoGirls @Banyana_Banyana @SAFA_net @SasolLeague @SasolSA @descaptain @WomenBoks @Springboks @Netball_SA @SPORTandREC_RSA @TeamSA18 pic.twitter.com/JQgUA0MomX

— gsport4girls (@gsport4girls) November 26, 2018
.@NGSuper_Falcons 🇳🇬maintain the enviable record of being the only team to have gone past the group stage at every edition of @CAF_AWCON since its inception in 98. Cameroon🇨🇲has reached the semis at every edition but 2000. @Banyana_Banyana 🇿🇦missed out on the semis in 98 & 2004. pic.twitter.com/mFDyC4D4Cy

— Total Women's Africa Cup of Nations (@CAF_AWCON) November 25, 2018
Rita Chikwelu explains how hard AWCON semi final between Nigeria and Cameroon will be pic.twitter.com/lqs6KC6LIL

— Promise Godwin (@Promise74273653) November 26, 2018
.@Banyana_Banyana forward Chrestinah @KgatlanaJnr11 🇿🇦leads the scorers chart with goals. @NGSuper_Falcons 's @AsisatOshoala 🇳🇬& Rachael Kundananji of @FAZFootball 🇿🇲have goals each. #Totalawcon18 pic.twitter.com/CELEf9ezTL

— Total Women's Africa Cup of Nations (@CAF_AWCON) November 25, 2018
This lady is not just a video analyst..She is a PERFORMANCE analyst. One who shares alot of knowledge & quality information to help us players improve in our game as well as share tips on our opponents. I am truly grateful to have her part of our squad. #Quality https://t.co/7Bhc4SySah

— Janine Van Wyk (@Janinevanwyk5) November 25, 2018
For what South Africans did for our Black Stars in 2010. For the love the South African U-17 team showed to our Black Maidens in Uruguay, I entreat all Ghanaians to support the South African Women's Team, Banyana Banyana to win the AWCON now that we are out.

Go BaGhana Banyana

— Saddick Adams Obama (@SaddickAdams) November 24, 2018
.@NGSuper_Falcons  Super-hero @AsisatOshoala - who scored a hat trick  & winner of Total Woman of the Match - reaction during the post-match press-conference: "I care more about my team, I care more about my nation rather than personal glory."
#EQGNGA #TotalAWCON18 pic.twitter.com/yWdOZv6GRp

— Total Women's Africa Cup of Nations (@CAF_AWCON) November 24, 2018
"Am happy at the level of football being played at the ongoing @CAF_AWCON & I know we can only get better with hardwork from us all"- Tony Baffoe#SWAGAIPSseminar pic.twitter.com/WLdwYWSsMP

— SWAG GHANA (@SWAG_Ghana) November 26, 2018
Banyana Banyana vice captain @fifinhojane (Refiloe Jane) has 96 Caps for the national team, that's remarkable considering her young age, shes about to join the elite list of players with century of caps.

— #DNAofChampions (@ShabanguBaldwin) November 25, 2018
Only one player has managed to retain the Golden Boot award since the inception of the AWCON tournament, Nigeria's Perpetua Nkwocha. #AWCON2018

2002
2004
 2006. pic.twitter.com/axij2gHSAa

— Football Naija (@Football_Naija) November 25, 2018
History beckons for Ellis and Banyana Banyana https://t.co/92q0UtNysi via @SAFA_net @Banyana_Banyana @SasolLeague @SasolSA #limitless #afcon2018 #RSAvsMALI

— Banyana_Banyana (@Banyana_Banyana) November 26, 2018
After our @NGSuper_Falcons first training at the Presbyterian Boys' High School, pitch in Legon, Accra, striker @AsisatOshoala speaks ahead of our semi-final clash with Cameroon @FecafootOfficie #TotalAWCON18 @CAF_AWCON @thenff @FIFAWWC pic.twitter.com/aggxlOPLVS

— NGSuper_Falcons (@NGSuper_Falcons) November 25, 2018
Here is group B standing:
Congrats to both teams! @Banyana_Banyana 🇿🇦 & @NGSuper_Falcons 🇳🇬 made it to the semis.#TotalAWCON18 pic.twitter.com/eLolmpnFxX

— Total Women's Africa Cup of Nations (@CAF_AWCON) November 24, 2018