NPFL
Wikki Tourist lost to an 'organised' MFM, admits Mbwas Magnut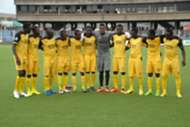 Mbwas Magnut says Wikki Tourist bowed to an organised MFM side in Wednesday's 2-1 defeat in a Nigeria Professional Football League encounter at the Agege Stadium.
Nafiu Kubuga's effort was not enough to help the Bauchi Elephants escape defeat as strikes from Adebayo Waheed and Akila Jesse saw them crumble in Lagos.
But the assistant coach blamed his side's slow start into the contest but assures they will bounce back in coming games, beginning on Sunday's against Akwa United in Uyo.
"Well, It is not below average. We started slowly because they (MFM) took their chances early but towards the middle of the game - we picked up and we got a goal," Magnut told media.
"In the second half, my boys rose to the occasion. It is just six games now and I believe we are improving every match and probably in a few weeks - we will get our first away win where no one least expected this season. It is football.
"We lost to MFM - they are a good side, very mobile and organised team. They came up and had their goals early but we had our game and we came from behind and showed our stuff as well.
"Of course, finishing is one of the things we are working on and I think we have to continue doing everything to correct it. I believe in the team and know we have capable boys to deliver anywhere."
Despite the defeat, Wikki are still eighth on the league log with nine points from six games so far this season.