Manchester United
Solskjaer needs more than just signings this summer & five tactical lessons from the Premier League weekend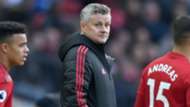 Sunday might not have been the decisive day in the Premier League title race many felt it would be, but – as Jurgen Klopp's repeated fist-pumps directed at the Kop would suggest - Liverpool's 2-0 victory over Chelsea at Anfield was a significant moment for the club.
Their run-in looks kind, Manchester City's difficult. If Liverpools fans did not already believe or if they were worried their team would choke under the pressure, then that performance and Mohamed Salah's emphatic goal have surely changed their minds.
On Saturday, West Ham were unlucky to fall to defeat at Old Trafford in a match defined by Manchester United's worrying tactical failings after Tottenham continued their improving form with an easy victory over Huddersfield Town.
Here are five tactical points from the weekend action...
---
Solskjaer needs more than signings this summer
---
During his first few weeks as Manchester United manager, Ole Gunnar Solskjaer's tactical decisions all came off, but increasingly it looks like the feel-good factor he brought to Old Trafford merely gave the illusion of tactical progress.
The zip in their game and freedom in their movement suggested hard work on the training field. Saturday's limp performance, though, suggests that perhaps that was never the case.
Man Utd lacked incision in the final third but more importantly they lacked purpose and tempo in their passing, which allowed West Ham to win the majority of the 50-50s and build their way into the game.
The visitors held 58 per cent possession, largely because Felipe Anderson and Manuel Lanzini were quickly given the ball and both players were able to drive beyond their inferior opponents Diogo Dalot and Marcus Rojo.
Never mind the dubious decisions that went against West Ham, had Marko Arnautovic been available for the visitors to start ahead of the (again disappointing) Javier Hernandez, Manuel Pellegrini's side would have won this game regardless.
A summer of diligent tactical work lies ahead for Solskjaer and his players.
---
Pochettino picks gaps in Huddersfield's understaffed midfield
---
There are perhaps too many problems with Huddersfield Town to isolate exactly what is wrong from a tactical perspective; in reality they just do not have anywhere near enough technical quality to compete at this level.
However, one notable issue throughout Jan Siewert's tenure so far is a lack of bodies in central midfield.
Playing a 5-4-1 at the Tottenham Hotspur Stadium, their two-man midfield was overrun by Mauricio Pochettino's dual number tens.
Lucas Moura and Christian Eriksen played just off Fernando Llorente in a 3-4-2-1 formation, with Lucas making runs beyond the Spanish striker and Eriksen chiefly occupying spaces between the Huddersfield lines of defence and attack.
The Denmark international frequently found himself in acres of space in these dangerous areas of the pitch, primarily because Spurs had a massive numerical advantage – four versus two – in the centre of the park.
Eventually this pressure led to the first goal, Victor Wanyama easing through the gap and rounding the goalkeeper, before Lucas scored his first of the afternoon after Eriksen and Moussa Sissoko had run through a worryingly empty midfield.
---
Sarri sits back as Liverpool take advantage of Emerson
---
Considering Maurizio Sarri has stuck stubbornly to his possession principles this season and tension was high inside Anfield, Chelsea were curiously defensive against Liverpool on Sunday.
That spell of Chelsea pressure shortly after Liverpool's second goal, when Eden Hazard should have scored twice, betrayed a certain giddiness among Jurgen Klopp's understandably emotional players.
It would surely have made more sense to press Liverpool and confront them higher up the pitch, as in the 1-1 draw at Stamford Bridge, rather than sit back and attempt to absorb pressure.
Instead of testing their hosts' nerve, Chelsea allowed Liverpool to grow into the game and build momentum; Sadio Mane's opener was a long time coming.
Klopp deserves credit for targeting Chelsea's Achilles heel, Emerson, who could not handle the pace of Mohamed Salah and received little defensive support from Willian.
An overlap down Chelsea's left led directly to the first goal, before Salah too easily cut inside Emerson ahead of his stunning strike.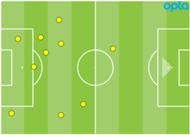 PIC: Chelsea interceptions vs Liverpool
---
Possession stats highlight new inferiority complex
---
All five Premier League matches this weekend that did not involve one of the 'Big Six' ended in victory for whichever team held the minority of possession.
Newcastle United, Southampton, Fulham, Bournemouth, and Burnley all won by playing on the break, enduring long periods without the ball before counterattacking to victory.
Of these, only Brighton vs Bournemouth was a marginal possession difference and three of the visitors' goals were scored on the counter.
One of the most distinctive tactical trends of 2018-19 has been clubs deliberately seeking a counterattacking strategy in response to the emergence of attack-v-defence encounters in the Premier League.
The financial disparity between the 'Big Six' and the rest has left most of the other 14 investing in players and systems that work best when the ball is largely kept out of reach.
The most prominent example of this is Bournemouth's transformation over the last 12 months, while Fulham's steadfast possession game has sent a clear message to the rest of the division: attempt to play on the front foot at your peril.
---
Palace allow De Bruyne to run the show at Selhurst
---
Crystal Palace were always going to sit in a compact defensive shell at Selhurst Park, but that does not mean the depth of their midfield was inevitable.
Throughout the first half against Man City their midfield five were far too close to the back four, which meant they closed out only a tiny chunk of the pitch between the two lines.
Unsurprisingly, Kevin De Bruyne simply dropped deeper than the midfield line and, still pretty close to goal, ran the show.
De Bruyne managed 96 touches of the ball and, as the graphic below illustrates, far too many of these were across the traditional number 10 space – an area oddly left open thanks to the depth of Palace's midfield.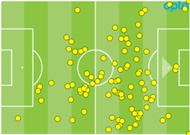 This set a pattern of complete domination for the visitors, which, not dissimilar to the situation at Anfield, meant City could relax and score at will.
Their opening goal came from an incisive counterattack that highlighted the second flaw with Roy Hodgson's system.
Jeffrey Schlupp was disorganised as a left central midfielder, frequently caught between positions and leaving a gap on that side of the pitch, which further explains why De Bruyne was so easily able to control the tempo.
Schlupp only lasted 22 minutes before an injury ended his game, but by then the damage had been done.