East Bengal
Debabrata Sarkar: East Bengal expects a merged league, ISL does not matter
with inputs from Soham Mukherjee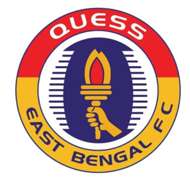 East Bengal announced their association with business service provider Quess Corp on Thursday. The deal will result in the club being rechristened as Quess East Bengal FC Pvt Ltd (QEBFC).
Debabrata Sarkar, the club's executive committee member, spoke about how the deal took shape and was positive about the longevity of the deal.
"In the last 20 years, we were associated with a company that wanted to promote football. In May this year, the relationship ended. We were clueless for quite some time after that. We went into talks with a lot of sponsors and investors. 
"Mr Ajoy Chatterjee (East Bengal's legal advisor) guided us and Mr Amit Sen (representative of UB group and former board member of Kingfisher East Bengal FC), a friend of ours, said that he has a friend who wanted to work with East Bengal. He wanted to work with various football clubs but somehow it did not work out and didn't take shape.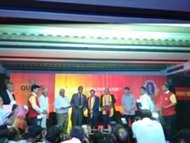 "They had a dream to take football to a greater level. We talked about youth development, corporate sector and upgrading facilities. We were happy with whatever chats we had. Today it took a final shape.
"Why only for the next 20 years? if we can be with them for the next 50 years, we can achieve many things. They have the financial backing, dream to succeed and the technical know-how. We can create many new records. I (would like to) thank them. We will work together to make East Bengal India's premier football club," said Debabrata Sarkar.
The deal gives Quess 70 per cent shares of the newly created company but the number of board members from the investor and the club management is four each. Quess also has the authority to bring in new sponsors or co-sponsors as they wish. 
"We are looking forward to corporatizing East Bengal club. We are planning to open football schools in every district of West Bengal. We are also planning to offer franchises to interested parties in every district. Special attention will be given to spreading official merchandise not only in India but worldwide. These are the three primary aspects that we are focussing on right now," explained Debabrata Sarkar, who refused to talk about East Bengal's participation in the Indian Super League (ISL).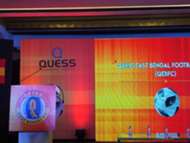 "This is not the time to tell whether we will participate in ISL. East Bengal is expecting a merged league. ISL does not matter. Clubs play better football in I-League than ISL. But again I repeat that we want a single league where all clubs can participate. If ISL decides to reopen bidding, East Bengal will definitely submit a bid. 
"They (Quess) are prepared to spend even INR 100 CR if required. Budget is not a problem. The entire expenditure will be borne by them. 
"We have four directors and they have four directors on the board and have formed a new company. We have 30 per cent and they have 70 per cent (shares). But we are equal on the number of board members and even on workable adjustments. 
"Company can bring on board any sponsor and co-sponsor. It entirely depends upon the company. Budget is not a problem," he concluded. 
East Bengal president Dr Pranab Dasgupta also gave assurances over the stability of the deal and said, "It is a marriage between Quess and East Bengal. I assure you it will never end in a divorce until I am alive and the president," he concluded.