African All Stars
Michael Olunga's transfer move to Sweden now unlikely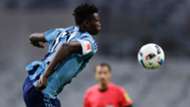 Kenyan striker Michael Olunga has until August 31 to force a move away from Chinese Super League side, Guizhou Zhicheng.
Olunga is reportedly not happy at his current club after he was relegated to the reserve team in compliance with recently imposed Chinese Super League foreign quota rule which allows a club to sign only five foreigners with only three being registered in the first team.
But the lanky forward, who was linked with a move back to Sweden in July, has until the mid night of this month to complete a move away back to Europe.
Olunga's chance of moving back to Sweden though seems to have been blown away after the window closed on August 11. The transfer window of major leagues in Europe, save for Portuguese, Spanish and Turkish leagues, will slam shut on the mid night of August 31.
The Portuguese transfer window stays open until September 22, while Turkish clubs also have a little longer to shop before their deadline on September 8 while those of England, France and Italy will shut on August 31.
The Kenyan international, who moved to China early in the year was also linked with a move to the Turkish side, Osmanlispor but with the country's window set to close on September 8, the former Gor Mahia striker's agent has exactly 22 days to confirm the deal.