Premier League
Iwobi can become Arsenal's very own Jay-Jay Okocha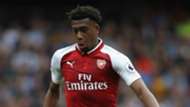 Patience is a virtue in every walk of life and no-one knows that better than Alex Iwobi. The Nigerian youngster graduated from Arsenal's Hale End academy in May 2014 and he has gone on to make 65 appearances for the Gunners' first team.
Iwobi is the kind of player every supporter dreams about having in their team – a youth product who has grown up with the values of the club and forged a place for himself in the senior squad.
The youngster's first season at Emirates Stadium in 2015-16 surpassed all expectations, as he made 21 appearances at home and in Europe whilst still a teenager. Still just 21, he's never been fazed by the occasion whether it be playing away to Bayern Munich at the Allianz Arena or scoring a goal on his first full Premier League start against Everton.
However, the one criticism levelled at Iwobi by fans, ex-players and even his own manager has been that the starlet lacks an end product and needs to score more goals. Arsene Wenger has mentioned on several occasions over the past two seasons that the most important addition to Iwobi's game would be more goals.
"I like the fact that he can play in tight areas, that he turns the game forwards, that he's very mobile," said Wenger.
"We forget sometimes that Alex is still a very young player and that there's a lot more to come from him. There must be a lot more to come from him because he has more personality in the game now.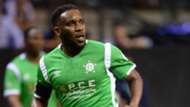 "We expect him to be more efficient in the final third offensively, because you feel there are goals in there and assists too. They have to come out. Add that to the fact that he allows the team to play very well and he will be a top-class player."
Iwobi did find the net during an impressive performance in Arsenal's 2-0 win over Brighton on Sunday. It was his first goal of the season and will hopefully open the floodgates to many more goals and assists.
There can be no doubting Iwobi's sublime talent. As he displayed versus Brighton, he possesses an excellent dribbling range for a player who stands at 5ft 11in – and his ability to beat opposing defenders with a turn of the shoulder or quick feint make him a scary prospect for Premier League defences to face.
"He reminds me of his uncle, Jay-Jay Okocha," Mesut Ozil told Arsenal Player .
"He was a player I loved watching. Alex reminds me of a mixture of him and Edgar Davids. He's really strong on the ball, also defensively, but he's good in front of goal too."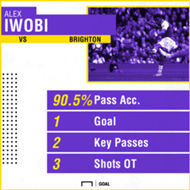 Ozil's high praise emphasises how highly thought of Iwobi is among his team-mates. If he can match the achievements of Okocha and Davids then an illustrious career undoubtedly awaits.
Every single forward player in the modern game will be defined by their respective statistics and Iwobi is no different.
Dribbling, passing and intelligent positional play are already part of the Nigerian's game and with more goals surely to come it won't be long before Iwobi follows in the footsteps of his Uncle Jay-Jay by achieving greatness for club and country.