Manchester City
'It looks like you can't touch them' - Neville backs Guardiola's Man City to go down as Premier League greats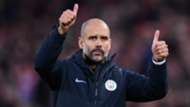 Pep Guardiola's insatiable hunger for success and meticulous attention to detail will see Manchester City retain the title, according to Gary Neville.
The Citizens are top of the Premier League after 13 matches of the 2018-19 campaign and remain unbeaten, two points ahead of second-placed Liverpool.
A comfortable 4-0 win at the Olympic Stadium against West Ham on Saturday saw Guardiola's men extend their winning run to eight matches across all competitions, with a trip to Lyon in the Champions League up next on Tuesday.
Neville has been in awe of what he has seen from City and under the Spaniard's guidance the ex-Man United full-back is adamant that their high levels of performance won't drop.
"Pep doesn't measure a game of football in the same way we do," Neville told Sky Sports on Monday.
"4-0, you're patting yourselves on the back in the dressing room after the game, but he sets a standard which is different to everyone else's.
"Sometimes I think he also wants to send a message to his players that when he sees a little complacency or things that aren't right, he'll stamp on it.
"He won't allow a drop in standard in any way and it's been apparent this season that when they've won a league, there's been a big dip.
"Every single day until the end of the season, he will make sure that little bit of complacency doesn't creep in at any moment in any game."
City will return to Premier League duties on Saturday when they host Bournemouth, with games against Watford and Chelsea to follow the week after as the Premier League's winter fixture list begins to pile up.
Neville added that he believes the champions will overcome any hurdles put in front of them, as they bid to become one of the greatest sides in English football history.
"Back-to-back championships is what he's desperate for and what he needs, and what he thinks is right for teams he manages," He continued.
"He knows that will take them from a great achievement last season to a great side. That's what they're looking like at this moment in time.
"He knows there are tougher tests to come where, if they do drop, they will get punished. But at the moment they look unbreakable. It looks like you can't touch them."