Opinion
Heat on La Volpe in Clasico Nacional, Pumas power and more talking points ahead of Liga MX Round 7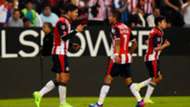 The weekend after seeing off crosstown rival Atlas, Chivas is once again taking part in a Clasico, this time hosting the Clasico Nacional against Club America. The showdown in Guadalajara headlines the weekend, but truthfully there's more intrigue elsewhere around the country.
The Clasico still dominates our thoughts, not least because the game will be broadcast on Facebook in English as part of Univision's new deal with the social media company. And the matchup between Mexico's two most successful teams all-time is always good for a watch and rife for drama.
Dominguez likely to miss Clasico
Still, don't let the focus on the rivalry game detract from the other quality matches on the calendar. Let's take a look at those...but first the Clasico:
---
IT'S A BIG WEEKEND FOR ... RICARDO LA VOLPE
---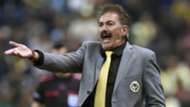 Club America finished as the runner-up of last tournament, falling just short of adding to their record haul of Liga MX titles. Just a few months later, the team seems to be in crisis mode. While one of the team's winter moves has worked out, the player, Cecilio Dominguez, will miss this weekend's match. Even when the Paraguayan has been in the lineup, though, the attack has sputtered. Seven points from six games has America sitting 12th, though not far from striking distance in the playoff race.
While the playoffs may be attainable, America is a club that aspires for more. Last weekend's home draw with previously last-place Puebla didn't go far toward convincing fans that La Volpe is a man who can bring that to them. A rivalry defeat this weekend wouldn't exactly put him in better graces.
Much comes down to whether Dominguez's likely replacement, Michael Arroyo, is able to provide a spark. That won't be easily done against a Chivas defense that has been quality throughout the tournament.
"I'll make the decision. I'm not thinking of changing managers, there's a good environment around the team," sporting director Ricardo Pelaez said Friday. But we've heard that kind of rhetoric before teams drop a manager plenty of times. A loss doesn't necessarily condemn La Volpe to a firing, but the manager's prickly nature and the club's predilection for parting ways with coaches sooner rather than later don't bode well.
---
DON'T MISS ... MONTERREY VS. PACHUCA
---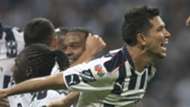 Two of last weekend's big winners turn around and square off against each other in a game that could be the most entertaining of the round. Both Monterrey and Pachuca have attacks that string together passes well, often leading to beautiful goals. For proof, you don't need to look much farther than last week when Franco Jara's goal for Pachuca give Tuzos a 1-0 victory over Tigres and Dorlan Pabon had a brilliant double to get Monterrey by Pumas.
Now the two teams, perhaps the teams showing the most balance so far this campaign, meet in Monterrey's Estadio BBVA. The stadium has not been good to visiting teams, with Monterrey winning or drawing in the last 13 home league matches. Monterrey also remains undefeated on the season, with last week's victory snapping a streak of four consecutive draws.
Despite that, Pachuca believes it can snap that streak and continue its climb up the table, where Tuzos' 11 points have them in third, one point ahead of Saturday's rival. 
"We've got to be alert and look to neutralize Monterrey's attacking power, being intense in marking and keeping the ball will be important to be able to get the three points," goalkeeper Oscar Perez said.
They'll also have to overcome Monterrey's overwhelming home-field advantage and a team that is starting to find its stride.
---
KEEP AN EYE OUT FOR ... PUMAS' POTENTIAL
---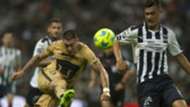 Pumas took a loss last week, struggling to get anything going against Monterrey and failing to stop Pabon from cutting up the defense. A visit from Tijuana, sitting in second place in the league, looks like a difficult fixture.
Yet, this may be the best opportunity for Pumas to prove that its early-season success is for real. The team has appeared balanced, with new forward signing Nicolas Castillo already scoring twice and the experienced defense keeping up with quicker attackers for the most part so far this year.
Tijuana's attack is fearsome. Xolos' 13 goals lead the league, and both Aviles Hurtado and Milton Caraglio have scored three goals on the year, with American Paul Arriola not far behind with a pair. This will be a perfect test for Pumas, a team that sits seventh after suffering just two defeats at this early stage but hasn't entirely convinced that it can contend for the trophy.
Pumas manager Paco Palencia's team wasn't ready for Monterrey but has been strong at home and could show its potential to be a factor in the postseason in this tournament with a win. Another stumble would hint at a team that still has more to do.
---
QUOTE OF THE WEEK
---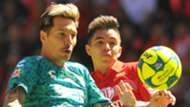 "We've had to have this kind of commitment to start such an important tournament for Club Deportivo Toluca. The expectations are high. I think we've showed that we're a family. I still think the team can give more to become an even better version of Toluca." - Efrain Velarde
​This is a scary thought for the rest of the teams in the league, which all are looking up at Toluca during the Red Devils' centennial season. Toluca looks to keep its place at the top with a win this weekend in Morelia against relegation-threatened Monarcas.