Singapore
Fandi upbeat despite Singapore's exit from AFF Suzuki Cup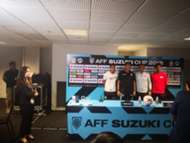 Despite getting knocked out of the AFF Suzuki Cup by Thailand, interim coach Fandi Ahmad remains upbeat about the display by his team.
"Congratulations to Thailand, I think they deserved to win as they were much better than us today," he said at the post-match press conference.
"They were tactically very sound, they closed (down) all our spaces and they were very fast on the flanks.
"But I am very proud of the Singapore players as they gave their all; we are the underdogs, people thought we didn't have a chance (from the start) but we fought until the last day and we gave our best."
Singapore's favourite footballing son also hopes that the fans will now start to believe in the players after their performances in the tournament, and start supporting the national team once again.
"Obviously, we are very proud because the never-say-die attitude is there, the motivation is there," Fandi said.
"We don't want to lose and today, we tried to get the goals, I'm very proud because they are trying to win games, we are not sitting back against the best team in this competition."
Significantly this tournament also saw the emergence of youth in the likes of Jacob Mahler, Ikhsan Fandi and Zulqarnaen Suzliman. For Fandi he hopes this trend is continued for the future of the national team.
"We are very proud of the players, especially the younger ones who have come in as this is the beginning of the renewal of this team for the future," he said.