European Championship
'F**k off Russia' - England and Wales fans unite against hooligans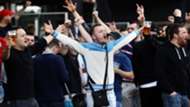 England and Wales fans have been filmed forming a boozy truce to ridicule aggressive Russian supporters in Lille ahead of their Euro 2016 clash on Thursday.
There was a simmering violence in the northern French city of Lille on Tuesday. It represented a continuation of the bloody brawling between English, Russian and French hooligans in Marseille at the weekend, leading to arrests and injuries across the city. 
Russia have been threatened with disqualification by Uefa should further violence occur in the rest of the tournament. 
But tensions between the two supports were once more evident, with England and Wales fans teaming up to sing "we're England and Wales, f**k off Russia" outside a bar.
Russia face Slovakia at 2pm UK time in Lille on Wednesday, then 24 hours later England and Wales clash in the nearby city of Lens.