A-League
A-League Rev-Up: Sydney FC exact revenge on Melbourne Victory with guard of honour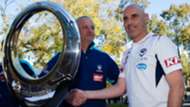 It's the last round of the A-League season and while Sydney FC and Newcastle Jets are locked into the top two positions, there is still plenty to play for in the positions below.
The Sky Blues and Victory rivalry continues to simmer with Graham Arnold's guard of honour request linked to a forgotten moment between the two teams.
While Wellington will be looking to avoid a potentially costly wooden spoon, the Mariners will be out crash the Jets and the top six will be decided across two tense games.
---
Sydney FC get back at Melbourne Victory's jersey celebration
---
Graham Arnold appears to have a long memory.
It was no surprise Sydney FC formally requested Melbourne Victory provide a guard of honour at Allianz Stadium on Friday night.
The chance of Kevin Muscat's team providing such a gesture for the Sky Blues' Premiers' Plate triumph is almost next to nothing, but the fact the question was asked would really irk Victory and their fans.
Sydney's attempt to rub in their extraordinary success casts our mind back to Australia Day 2016, when Melbourne Victory wear a one-off 'Champions' jersey (see below) against the Sky Blues designed to celebrate their 2014-15 Grand Final win over Arnold.
The Australia Day match, which Victory won 1-0, was played eight months after the blue-and-white lifted the toilet seat against the Sky Blues, and the special edition kit was clearly an attempt to rile Sydney FC.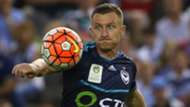 With roles reversed and Sydney FC now the dominant team, the departing Arnold has used his final regular season match against the club's oldest rivals to exact revenge.
This Sydney FC fan was right after all...
---
Wooden spoon a nail in the coffin for Wellington Phoenix?
---
With the future of the Nix a seemingly never-ending debate in the A-League, a wooden spoon will do them no favours with expansion on the horizon.
Finishing last will be quite harsh on a Wellington side with plenty of young talent and experienced heads but an uncanny ability to fade away late in games.
Struggling to draw crowds this season and parting ways with another coach mid-season creates a poor image for a club that is in reality run very well off the pitch.
At the end of the day however, a club's success comes down to what it can do on the field and a wooden spoon could well spell doom for a Phoenix side that will need to rise from the ashes next season.
There's arguably even more on the line for Melbourne City with a spot in Asian Champions League qualifying ups for grabs should they win.
For a side with such investment, it's nothing less than what they need and if you've listened to Luke Brattan recently it's not a matter of if but when City claim some more silverware.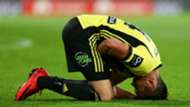 ---
Newcastle Jets to crash and burn on the F3
---
In terms of current form for both clubs, this F3 derby has the feel of days many hoped had gone by for Newcastle at least.
Though the Jets have had second spot wrapped up for a few weeks, Newcastle have now lost three straight with the Mariners copping five consecutive losses themselves.
While Ernie Merrick has done wonders with his side, current form is a huge worry and it's hard to see this team doing any damage come finals.
Without a goal in their past two games and copping ten in their past three, the Jets are on the verge of crashing big time and Central Coast will surely savour bringing their local rivals back down to earth.
With Mike Mulvey confirmed as the Mariners coach for next season, the players will have respective points to prove while veteran defender Josh Rose will be hoping to exit the game on a high by bringing Newcastle low before finals.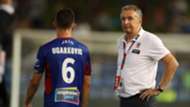 ---
Too little, too late for Kenny Lowe
---
Perth Glory have developed an uncanny ability to finish A-League seasons with a wet sail and on this occasion it'll likely not be enough.
Despite winning three of their past four games and looking a side capable of taking it to the best, even if Glory were to win on Saturday the Wanderers can still wrestle sixth spot from them.
For a side with such quality in its ranks, not making finals is a failure for the club and could well spell the end of Lowe's time in charge.
Though a coach capable of getting the best from his players, it's arguably time for a fresh perspective out west and missing finals will surely strengthen such an argument.
To be fair to both Kenny Lowe and John Aloisi, injuries have plagued both sides this season and you can only wonder what both these clubs could've been capable of with a bit more luck in that department.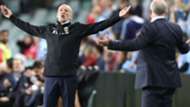 ---
Oriol Riera may have saved the Western Sydney Wanderers season
---
With two goals against Brisbane Roar last week, Spanish striker Oriol Riera became Western Sydney's highest single-season goalscorer in all competitions.
A former roommate of Lionel Messi, the 31-year-old has struck 14 times this season and more often than not they have been decisive blows. 
Though his attitude and relationship with coach Josep Gombau have been questioned, the number nine has got his job done on the pitch and easily become one of the best foreign signings in the Wanderers sketchy history in the market.
Should he score on Sunday night and ensure Western Sydney's spot in the finals, Gombau will have Riera to thank for saving what could've been a disastrous first season in charge.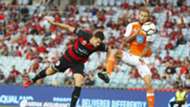 Adelaide will be no roll over however and haven't lost to the red and black in their past five league meetings.
Get revved up for a huge final round of A-League action!