Zlatan Ibrahimović
Tiredness behind Ibrahimovic omission against Chelsea, says Mourinho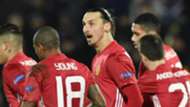 Jose Mourinho says tiredness was behind his decision to leave Zlatan Ibrahimovic out of Manchester United's starting XI to face Chelsea on Sunday.
Firmino is Beauty and the Beast for Liverpool
The 35-year-old was on the bench for the Premier League encounter at Old Trafford, as Marcus Rashford led the attack instead alongside Jesse Lingard.
Mourinho, who said this week that Ibrahimovic needs stability at his age, admitted he wanted to protect the Swede.
"[He's] tired, very tired," Mourinho told Sky Sports when asked about his omission. "Maybe [in the] second half [he'll play], we tried to protect him, but we will see the result.
'We made some changes, especially after the players' feedback. That is very important to us. Some players played on Thursday and they will have to play again, but we are still in two competitions and what is possible, we have to fight."
Mourinho criticised his attackers in the wake of Thursday's Europa League draw, and Ibrahimovic admitted afterwards that he had been suffering from fatigue.
"I think he is right in this matter because I was not feeling good in the sense of I was feeling tired," he said.
"But it is not an excuse because I still have to do well, I still have to do much more and much better than I did. I speak for myself and [Anderlecht] was not a good performance."