Lionel Messi
Can Hazard match Messi? Poyet sees Belgian as inconsistent as 'destabilised' Chelsea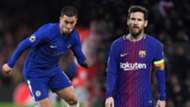 Chelsea forward Eden Hazard has been challenged by Gus Poyet to prove that he can compete with Barcelona talisman Lionel Messi at the highest level.
The Belgian will shoulder much of the weight of expectation at Stamford Bridge on Tuesday when the Blues take in a heavyweight Champions League last-16 encounter with the La Liga leaders.
Antonio Conte needs Hazard to deliver a talismanic performance, with the Italian coach looking for a big result to ease the pressure on his shoulders and breathe new life into a testing campaign.
Poyet fears Hazard may be too inconsistent to produce what is required, with five-time Ballon d'Or winner Messi continuing to set the standard when it comes to personal excellence.
The former Blues midfielder told Marca on an intriguing tussle between two key creative talents: "It's a safe bet that Messi will perform, this isn't always the case with Hazard.
"We need to see what Hazard will turn up, it depends on if Conte gives him the freedom to play on the left."
Poyet added on the challenge of trying to keep Messi quiet: "Chelsea's system with three central defenders and two wing-backs will attempt to block him in the central zone.
"In this zone there will be many bodies and it will be an interesting tactical battle. I am seeing these matches from the coach's point of view now."
Poyet, who is currently in charge of Ligue 1 side Bordeaux, fears Barca will prove too strong for Chelsea, with the defending Premier League champions having mirrored the problems currently being endured by Real Madrid – in what is becoming an all too familiar theme for those in west London.
"I see Chelsea as a destabilised team, they are struggling and this has happened too many times after winning the title," added the Uruguayan.
"The next season things go wrong. It happened with [Carlo] Ancelotti, [Jose] Mourinho and now Conte.
"Last season Chelsea were strong and had a solid system, now you don't know what is going to happen.
"Sometimes they lose 3-0 at home and they are similar to Real Madrid; they only play like champions at certain moments."