Barcelona
Jeremy Brockie's bizarre brush with Barcelona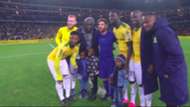 When Jeremy Brockie went to play football in South Africa, the last thing he would have been expecting was to face off against Barcelona.
But that's exactly what happened for the New Zealand international, whose current club Mamelodi Sundowns organised an exhibition match with the La Liga winners back in May.
That game, scheduled prior to the end of the Spanish season, saw Barcelona claim a 3-1 win with Brockie savouring the unexpected chance to play against them. 
"Our owners did a lot to make it happen and (Barcelona) flew between their second to last league game and their last," Brockie told Goal.
"It was a short thing. They flew in Wednesday morning, we played them Wednesday night and they were gone straight away.
"It was still an unbelievable experience. They brought all their big guns so it was unreal."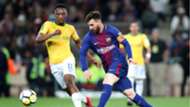 Coming on as a second-half substitute with the Sundowns getting a goal back in the 76th minute, Brockie got the chance to share a few brief moments with the Barcelona stars.
"We got some photos and I swapped shirts with Gerard Pique after the game which was a nice touch," he said.
"Usually strikers swap shirts with the defenders because that's usually what end of the field your at.
"He was one I had an eye on, obviously a Man United fan and he came through as a youngster there."
Brockie moved to Sundowns in January from SuperSport United and has now spent three years in South Africa since departing Wellington Phoenix.
The 30-year-old signed a long-term contract with the Sundowns but admitted an A-League return could be on the cards down the track.
"I'm very happy here in South Africa," Brockie said.
"I had great fun in the A-League and if it becomes available again when I'm older I'd certainly look at it."