Premier League
Zaha laying memories of Man Utd to rest in blistering season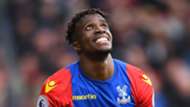 ---
COMMENT
---
Wilfried Zaha is enjoying something of a renaissance this season. After flopping at Manchester United, the Crystal Palace winger has emerged from the shadows in 2016-17 and is now one of the most dangerous wingers in the entire league.
Heavily linked with a move to Tottenham this summer, the 24-year-old has a perfect chance to show Mauricio Pochettino exactly what he would be getting this Wednesday when Spurs visit Selhurst Park, their title ambitions still intact.
Zaha is reportedly a major target of the Argentine's, with Pochettino taking a keen interest in dynamic, multifunctional players.
'Zaha can be as good as Neymar'
Erik Lamela's injury problems this season have left Spurs with just Heung-Min Son and Moussa Sissoko to call on in his absence. While Son has stepped up, he is arguably more effective from the left flank, where he has more opportunity to cut inside, but Sissoko is seemingly a lost cause. It would be no surprise if the £30 million acquisition from Newcastle United were sold for a massive loss when the transfer window reopens.
Zaha, then, would seem a sensible acquisition, though he is unlikely to come cheap.
The winger – who opted to play for Ivory Coast instead of England – has finally shaken off the monkey that came with his disappointing spell at United and is now a truly explosive presence on the pitch.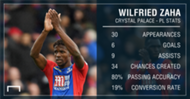 In 32 appearances this season, Zaha has scored six goals and also provided nine assists. According to the Football Observatory, Zaha is the fifth best dribbler in all of Europe's top five leagues, behind only Adama Traore, Eden Hazard, Allan Saint-Maximin and Neymar. He boasts an 89.9 per cent ratio between attempting and completing dribbles on the pitch, beating even Lionel Messi and Alexis Sanchez.
This is key, as Zaha has clearly allied his dynamic ability with intensely entertaining trickery and footwork; the 24-year-old also has no qualms about tracking back to help his full-back and he thrives in big games. He was credited with two assists in the recent 3-0 win over Arsenal, and he scored and assisted in the 2-1 victory over Chelsea.
Reports suggest that Palace are keen to tie Zaha down and offer him a new deal, with his current contract set to expire in 2020, and Palace surely boast a huge amount of bargaining power in case Spurs, or any other club, do come knocking; they extracted around £28m from Everton for Yannick Bolasie, and Zaha is better and younger. Indeed, Allardyce claimed on Tuesday that the forward is worth around £40m in today's inflated market.
Zaha reveals his favourite happy song
"Personally, in today's market, absolutely [he's worth £40m]. I just hope no one bids it," he said.
It is a quite remarkable turnaround for Zaha, who was sold by Manchester United for around £6m in 2015. Sir Alex Ferguson's last ever signing as a manager, the winger was tipped for huge things, but questions abounded over his desire and motivation under David Moyes.
Indeed, he played just 26 Premier League minutes in a red shirt and failed to score. His one lasting achievement from his time at United is a Community Shield trophy.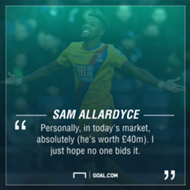 Following his move back to Palace, then under the management of Alan Pardew, the former Newcastle United manager claimed that Zaha had learned from his time at Old Trafford, and even went so far as to reveal that Ferguson still believed in the last player he ever bought.
"I spoke to Alex Ferguson about him recently and he still thinks he's destined to be a top player," he said in May of 2016. "Alex still talks about the qualities Wilf has – the pace, the power, the constant energy to run from start to finish.
"There are not many players who can carry the ball like he does for maybe 120 minutes."
Palace v Tottenham: Team news & TV
Zaha is now a player that would not look out of place in a United starting XI.
With Jesse Lingard – who has scored one goal and provided two assists in this Premier League season – signing a new deal, for a reported wage of £100,000-per-week, it would not be a surprise if a number of United fans were pining for the return of Zaha.
Instead, he may well end up at Tottenham next season, with Pochettino likely to continue his superb record of developing young talent.
Zaha has all the tools needed to succeed in the coming months and years; after one false start, he must now make sure he finally lives up to his potential.